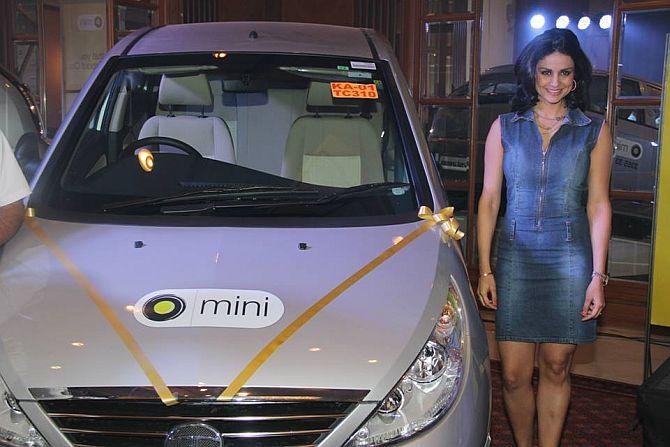 The company markets itself to young commuters in the shadow of the ongoing tournament, but is caught on the wrong foot as its campaign comes under fire on social media
In India, there is hardly any marketer who would not want to target the age group of 19- to 35-year-olds, but for e-commerce companies, they are even more precious as they are the fabled repeat users that brands vie for.
But where do you get hold of them?
At pubs, sporting events and restaurants.
And that is where Ola is trying to find them too.
The company, however, has stumbled in its efforts.
Its ad, which compared a young woman shopper with an Ola Micro, screened during the Indian Premier League was branded sexist and the brand was battered down by angry mobs on social media.
The company had to hastily pull the ad off air and apologise.
"I think in this case Ola misjudged the customer.
"The 'youth' are today far more connected and opinionated than ever before.
"I think Ola got their metaphors mixed up in the current campaign.
"When marketing to the youth, you can be fun, you can be irreverent, you can be whacky but you cannot be disparaging or even patronising.
"It is the tonality of the communication and the thought process that can easily become repulsive.
"Then it is neither funny nor fun," said Sandeep Goyal, chairman, Mogae Media.
But will this misstep keep the young away from the brand? Not really.
The cab-aggregator has adopted what it calls a three-pronged approach to keep the brand aligned to the young.
It recently partnered with Hard Rock Cafe across five cities, especially those outlets that are telecasting the IPL on large screens.
The ongoing campaign convinces pub goers to call an Ola after they have had a few drinks.
The Bengaluru-based company also decided to cash in on the IPL craze by giving out tickets for the matches and IPL merchandise to customers.
"Customers need to open the app and along with the cabs they will see something call a match-day cab.
"If they are lucky, they may get a taxi with free tickets to the match," said Raghuvesh Sarup, chief marketing officer, Ola.
Sarup explained that this was their way to increase customer engagement with the existing user base.
"On non-match days, or cheer days, we can give our customers free merchandise, memorabilia or access to pubs showcasing these matches," said Sarup.
He, however, refused to divulge the number of tickets on offer.
The effort to push Ola through IPL started with the latest edition of the tournament.
"We have seen a significant uptake in customers," he added.
Using discounts and freebies is the oldest trick in the book for e-commerce companies and experts say that deal hunters are never loyal to the brand.
While that may be true, Sarup insisted that the current engagement offers more than free rides. He explains that the app is sticky and makes customers want to ride again and also with the launch of the Micro service, the bait will be too hard to resist.
"They are fanning a need.
"They are expanding existing niches. Ola started out with an offering that was centred round a timely and hassle-free cab ride.
"So, the central proposition was about the cab.
"Now, their focus has shifted from affluent corporate customers to a much younger audience with propositions around cab sharing, bus shuttles, bike cabs, and now affordable mass ride," said Goyal.
Ola, however, argues that their focus was always on the young customer.
"We have been true to our user profile, which is between 20 and 30," said Sarup.
It is not as if the company is seeking out the young customer now, he implies.
To tap the high spender in the same age group, Ola is a partner for the ongoing India Restaurant Week as well.
The company offers a 'certain number of free rides' to those who have reserved their seats at the festival.
But this time it is pushing Ola Prime, a brand that rivals Uber Black, with free Wifi and a luxury sedan.
"All of these partnerships and efforts are what marketers call a 360-degree approach," said Goyal, but do such initiatives lose steam when a brand is battered down by angry users on social media?
Goyal warns that social media shouldn't be used to judge the impact of a campaign.
"To be honest, these days 'outrages' are easy to kick up. One tweet can ignite a controversy. And if you are a visible brand like Ola, it is easy to target you.
The 'outrage' takes very little time to gain momentum, and in a matter of hours you can have a full blown controversy on social media," he said.
But like all things that light up in a flash, such controversies are also quick to burn out, or so Ola must hope.

Ola Cabs, which started out in 2010, has raised over $1 billion of funds.

It was valued at over $5 billion in September 2015. It has 350,000 drivers

It launched Ola Micro, its cheapest service, to rival Uber's UberGo in March 2016
Image: Actress Gul Panag with an Ola cab. Photograph: Kind courtesy, Ola