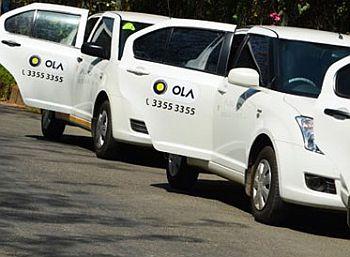 Country's leading taxi service aggregator Ola Cabs has acquired its rival TaxiForSure in a cash and equity deal worth $200 million.
"Furthering its mission to revolutionise personal transportation in the country, Ola announced that it has acquired TaxiForSure for $200 million in a cash and equity deal," the company said in a statement today.
With this deal, Ola has further deepened its footprint with TaxiForSure's operator-led model, the company added. Following the announcement, Ola and TaxiForSure will continue to operate as separate entities.
"The leadership and all of the 1,700 employees shall continue to work with TaxiForSure, with Arvind Singhal (currently COO) being appointed the CEO. Aprameya Radhakrishna and Raghunandan G, the founders of TaxiForSure, will contribute in an advisory role for a certain period," Ola said.
Commenting on the acquisition, Ola Co-founder and CEO Bhavish Aggarwal said: "There's a lot of complementary value in the strategy TaxiForSure has followed. I'm very excited to welcome the TaxiForSure team onboard and look forward to working with them towards realising our common vision."
"Post this acquisition, the combined entity will be strong enough and better capitalised to offer the best value to all our stakeholders, including our customers. This development ensures that industry attractiveness is preserved and the combined entity can race ahead and continue to create unprecedented value for all stakeholders," TaxiForSure Co-founder and CEO Raghunandan G added.
TaxiForSure follows a different model of supply and distribution by working with cab operators compared to Ola's model of working with driver-entrepreneurs.
Ola has been funded by Tiger Global, Matrix Partners, Sequoia Capital, Steadview Capital and most recently, Softbank over its four rounds of fund-raising. Investors in TaxiForSure are Accel Partners, Bessemer Venture Partners and Helion Venture Partners. "With this acquisition, investors in TaxiForSure will roll over their stock into Ola," the company said.
TaxiForSure is currently in 47 cities with over 15,000 vehicles registered on its platform.