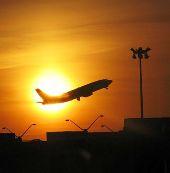 Snapping a three-month trend of price cuts, state-owned oil firms today hiked jet fuel rates by 1.7 per cent in line with firming international oil rates.

The price of aviation turbine fuel, or jet fuel, in Delhi was hiked by Rs 1,039.1 per kilolitre, or 1.7 per cent, to Rs 62,208.18, according to Indian Oil Corp, the nation's largest oil firm.

The hike comes on back of reductions in rates in six fortnights, including a steep 5 per cent (Rs 3,260 per kl) cut effected from June 16 and about 2 per cent (Rs 1,241 per kl) fall in prices from July 1.

Jet fuel, which had hit an all-time high peak of Rs 71,028.26 per kl in August 2008 shortly after international oil rates touched a record $147 per barrel, had fallen to eight-month low of Rs 61,169.08
per kl earlier this month.
In Mumbai, jet fuel will cost Rs 63,002.45 per kl from Monday as against Rs 61,933.58 per kl previously.
Jet fuel constitutes over 40 per cent of an airline's operating costs and today's increase in prices will wipe away some of the gain the cash-strapped airlines had made from reductions.
No immediate comments were available from the airlines on the impact of the price hike on passenger fares.
The three fuel retailers -- IOC, Hindustan Petroleum and Bharat Petroleum -- revise jet fuel prices on the 1st and 16th of every month, based on the average international price in the preceding fortnight.
© Copyright 2023 PTI. All rights reserved. Republication or redistribution of PTI content, including by framing or similar means, is expressly prohibited without the prior written consent.