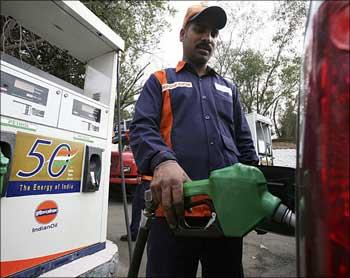 The Petroleum Ministry has asked for Rs 26,000 crore (Rs 260 billion) as fuel subsidy for the third quarter of this financial year, but the finance ministry is inclined to provide only Rs 10,000 crore (Rs 100 billion) cash support.
"We have written to the finance ministry seeking Rs 26,000 crore subsidy support for covering under-recoveries (revenue loss) on diesel and cooking fuel in Q3 as well as unmet losses of the previous fiscal," Oil Secretary Vivek Rae said.
Fuel retailers lost Rs 39,725 crore (Rs 397.25 billion) on selling diesel, kerosene and domestic cooking gas (LPG) at government controlled rates in October-December 2013. Upstream companies Oil & Natural Gas Corp and Oil India Ltd will make good Rs 15,937.59 crore (Rs 159.37 billion), or about 40 per cent, of this amount.
For the rest, the oil ministry wants cash subsidy, he said. "There is also some unmet under-recoveries of the previous two quarters, which we have sought from the finance ministry."
Without the government subsidy, state-owned fuel retailers Indian Oil Corp (IOC), Hindustan Petroleum (HPCL) and Bharat Petroleum (BPCL) will report losses in the third quarter.
HPCL is scheduled to report its earnings tomorrow while BPCL results are due on February 12, followed by IOC on February 13.
Sources, however, said the finance ministry is willing to give only Rs 10,000 crore of subsidy support for now and wants the rest to be carried forward to the next financial year.
The government provided Rs 17,772 crore (Rs 177.72 billion) of cash subsidy in the first half of the current financial year.
Fuel retailers sell diesel and cooking fuel at rates below the cost of production. The losses they incur are met by way of cash subsidy and support from upstream firms.
For Q3, ONGC's share of the burden will be Rs 13,764.11 crore (Rs 137.64 billion), while OIL will bear Rs 2,173.48 crore (Rs 21.73 billion). Gas utility GAIL India did not pay any subsidy in Q3.
ONGC's liability is near the record Rs 13,796.04 crore (Rs 137.96 billion) it shelled out in Q2.
Sources said IOC's share of the support provided by the two exploration companies would be Rs 8,261.30 crore (Rs 82.61 billion). BPCL would get Rs 3,971.31 crore (Rs 39.71 billion) and HPCL Rs 3,704.98 crore (Rs 37.04 billion).
During April-September, IOC, BPCL and HPCL together lost Rs 60,907 crore (Rs 609.07 billion) in revenue on selling diesel and cooking fuel. Of this, ONGC made good Rs 26,417.82 crore (Rs 264.17 billion), OIL Rs 4,215.76 crore (Rs 42.15 billion) and GAIL Rs 1,400 crore (Rs 14 billion).
Sources said ONGC's subsidy burden in Q3 would be about 10 per cent higher than the Rs 12,433 crore (Rs 124.33 billion) paid in the same period of the previous financial year.