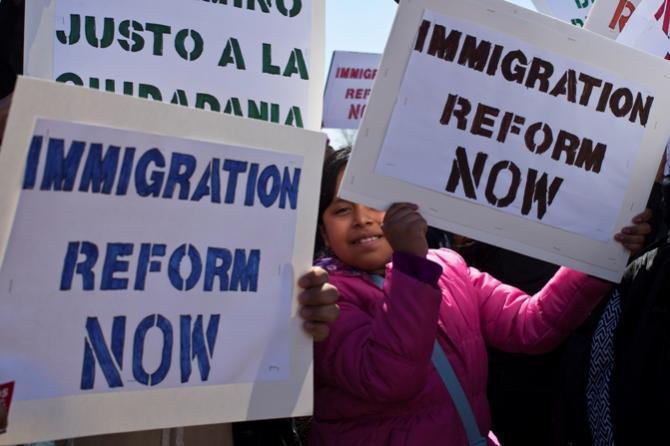 Even as Silicon Valley stalwarts have dismissed the many immigration fixes proposed by US President Barack Obama as inadequate to meet the needs of the technology industry, Indian software industry seems to be heaving a collective sigh of relief.
None of the provisions that could have restricted the flow of Indian workers to the US shores — those were earlier feared to be part of the visa reform Bill — found any mention in Obama's address.
On Thursday, Obama used his executive powers to hand out four million unauthorised immigrants a new legal status that would defer their deportations and allow them to work legally.
He also proposed several fixes to the "broken" immigration regime of the US.
These measures are expected to liberalise the visa norms for foreign students, professionals and entrepreneurs, especially those working in the technology sectors.
The US government expects 400,000 highly-skilled workers to be eligible for visas once these reforms are implemented.
Indian players, though, were a little disappointed over non-inclusion of their demand for an increase in the number of H-1B visas — a temporary work visa along with a start-up visa. But Indian-American technology entrepreneur, Vivek Wadhwa, a big advocate for the H-1B quota to be increased from the current 65,000 a year, said Obama "has done practically everything in his power to address the needs of the technology community".
An academic and fellow at Stanford Law University, Wadhwa told Business Standard in a note that he had expected (or feared) that Obama would again let Silicon Valley down with his executive order on immigration. "But he has not."
He, however, warned this might be the only immigration reform we might see for some time. Calling it "only band-aid", he said it would take many years for the wounds to heal from the battles that would now start, as Obama had chosen to press ahead with the reforms without talking to his Republican colleagues. "It is likely more misinformation will be spread about immigration and the rhetoric about foreigners taking American jobs away would increase," he said.
A backlash could adversely affect Indian software companies, which have often been criticised for sending local employees to the US and replacing American engineers with them.
But the first industry reaction was positive. K Natarajan, chief executive & managing director of MindTree, said the finer print was awaited, but it looked positive, especially because it did not talk about all the "negative" things being speculated earlier.
"Local hiring in the US has increased because of clients' expectation of teams working in the same time zone, and I think this policy will help meet that expectation even better," he added.
A measure that directly affects the industry is the proposed clarity on the L-1 category of visas, used by Indian firms to send professionals with highly specialised skills. A few years ago, the industry had reported a rejection rate of 40-50 per cent for L-1 visas.
A senior Infosys official said very few changes had been made in so far as H-1B visas were concerned.
But the process to apply for green cards had been made easier for holders of temporary work visas like H-1B. Another industry executive added the IT industry cdould draw relief from the fact that some of the drastic and extreme proposals, as proposed by Senators Chuck Grassley and Dick Durbin a couple of years ago, were not there.
"It is true that the H1-B visa cap, a key demand of the industry, has not been increased.
But the industry can take solace from the fact that there are not many negative elements in the proposal," he said.
Last year, a Senate version of the Comprehensive Immigration Reform Bill had created discriminatory provisions for hiring Indians workers, sparking protests from both Indian and American employers.
Several American multinationals, including the likes of Intel and Microsoft, have on their rolls a significant number of Indians working on temporary work visas like H-1B and L-1.
Besides not increasing the quota for H1-B visas, Obama was silent on the possibility of creating a new kind of visa, called the start-up visa, to make it easier for budding entrepreneurs to stay and work in the US.
"This is a big concern — because these are the core needs of Silicon Valley. It needs more highly skilled workers and tens of thousands of new start-ups," said Wadhwa, who has been working closely with the American administration for years to resolve some of these issues.
But to encourage entrepreneurs to stay on, Obama sought administrative reforms to facilitate US citizenship or a green card for them, without employers' sponsorship. Inventors, researchers, and founders of start-ups could also be offered "parole", which would allow them to temporarily pursue research & development in the US, rather than abroad.
Obama also recognised the fact that the process of handing out green cards (US citizenship) needed a significant overhaul.
There are more than one million immigrant doctors, scientists, engineers, and teachers — including many Indians — who entered the country legally and are stuck in limbo while they wait for permanent resident visas, which are in short supply.
"It can take decades for people of some nationalities to get green cards, and once the application process starts, they cannot change jobs without getting to the back of the queue. Employers know that these workers will not leave them, so they often take advantage of the situation by offering lower salary hikes and lesser roles," said Wadhwa.
The president's executive order provides "portable work authorisation", which means these workers would be able to change jobs.
"This is a big deal because it will fix one of the issues that opponents of skilled immigration have complained the most about: The salary differential between people on H-1B visas and American workers. No longer can skilled immigrants be considered "cheap labour", he added.
Obama has also allowed spouses of citizens awaiting permanent residency to work.
"This fixes another major problem: The purgatory that spouses of H-1B workers have been placed in. Highly skilled professionals — mostly women — have seen their careers stagnate and they have been confined to their homes because they were not allowed to work. This is a huge step forward," Wadhwa said.
The US president also gave directions for administrative changes to improve the processing of visas, expanded immigration options for foreign entrepreneurs, and extensions to training visas for foreign students.
"These are all good, but the devil is in the details," he said. Wadhwa elaborated on it by saying it really depended on how the immigration bureaucracy interpreted these orders and what "additional hurdles" were placed in the way of skilled immigrants.
Sigh of Relief
The proposal of Senators Chuck Grassley and Dick Durbin in 2009
No company will be able to hire H-1B and L-1 workers if more than 50 per cent of their employees in the country hold these visas
Proposal in the Senate version of the Comprehensive Immigration Reforms Bill, passed in June 2013
If an employer has more than 50 per cent of employees on H-1B or L-1 visas, it has to pay $10,000 as fee per additional worker; there were many other restrictive clauses
Mooted in the House version of the Bill
The Republican-controlled House of Representatives were mooting their version of the Bill, which proposed an increase in the number of H-1B visas to 155,000 from the current level of 65,000.
It was expected to be a friendly Bill for the IT outsourcing industry
President Obama's proposal
To significantly liberalise the visa regime for students, professionals and budding entrepreneurs; students pursuing courses in science, technology, engineering, and mathematics (STEM) studies in US universities could look forward to an elongated stay beyond the 29 months they are currently entitled to.
Inter-company transfer of temporary work visa holders to be made easier along with the process to obtain green cards. No changes proposed for an increase in visa cap