He may be heading the world's largest economy, but US President Barack Obama's personal net worth is just $5 million is the lowest for any American President in five decades.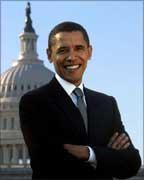 The last time a US President had a lower net worth than Obama was Harry Truman (1945-53) with less than $1 million, as per a list compiled by The Atlantic magazine.
"Obama is the grandson of a goat herder. He is a former constitutional law professor and civil rights attorney. Book royalties constitute most of Obama's net worth," the US magazine said.
Till now, the US, whose GDP is $13 trillion, has seen 44 Presidents and net worth for each was calculated in "2010 dollar" rate, for the list.
Obama, who took over as the President in 2008, has fortunes to the tune of $5 million. In comparison, George W Bush, who was the President from 2001-08, had a net worth of $20 million while his predecessor Bill Clinton's fortune is estimated to be worth $38 million.
As per the analysis, at least 14 former US Presidents had net worth of less than $5 million. They include Abraham Lincoln and Woodrow Wilson (both had fortunes less than $1 million) and Franklin Pierce ($2 million).
This compares to Americans accounting for 40 per cent of the world's billionaire population (with over 400 billionaires calling US their home).
The Atlantic noted that the first US President George Washington's net worth is estimated to be $525 million at current dollar valuation.
"One of the most important conclusions of this analysis is that the presidency has little to do with wealth. Several brought huge net worths to the job. Many lost most of their fortunes after leaving office. Some never had any money at all," the publication said.
The analysis took into account hard assets like land, estimated lifetime savings based on work history, inheritance and homes, among others.
"Royalties on books have also been taken into account, along with ownership of companies and yields from family estates," the magazine said.
According to the magazine, the rise of inherited wealth in the early 20th century contributed to the fortunes of many presidents, including Theodore Roosevelt, Franklin D Roosevelt, John F Kennedy, and both the Bushes.
Pointing out that stigma of making money from being a retired President began to disappear, the report said, Bill Clinton made millions of dollars from writing his autobiography.