President Barack Obama, in an effort to rejuvenate the battered US economy, on Friday nominated his Chief-of-Staff and budget specialist Jack Lew as the next Treasury Secretary.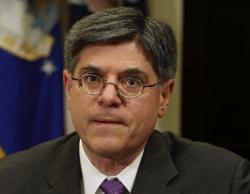 "I cannot think of a better person to continue Tim's work at Treasury than Jack Lew," Obama said, in a White House event announcing his nominations for the top cabinet jobs in his second term beginning January 20.

"Jack knows that every number on a page, every dollar we budget, every decision we make, has to be an expression of who we wish to be as a nation," Obama said.

"So, I hope the Senate will confirm him as quickly as possible," Obama said.

The 57-year-old, if confirmed by the Senate, will replace Timothy Geithner, who has announced his decision to quit the Obama Cabinet by January-end.

"Jack Lew will bring an impressive record of service in
both the public and private sectors for over three decades and economic expertise to this important role, and his deep knowledge of domestic and international economic issues will enable him to take on the challenges facing our economy at home and abroad on day one," a White House official said, explaining the reasons behind Lew's selection.
"Throughout his career, Jack Lew has proven a successful and effective advocate for middle class families who can build bipartisan consensus to implement proven economic policies," the official said.
"As White House Chief of Staff, Jack Lew led the President's team in tackling some of the toughest domestic and international economic challenges facing our nation in decades," the official said, adding that that the challenges included strengthening nation's recovery from the worst economic crisis since the Great Depression to dealing with serious fiscal matters and challenges in the global economy.