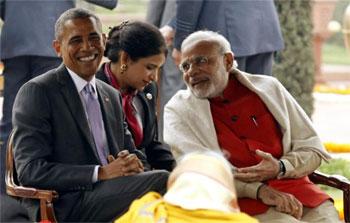 A top Republican lawmaker has accused the Obama Administration of being soft on alleged violations by India on intellectual property.
"Once again, the (Obama) Administration has missed the mark," Congressman Orrin Hatch, Chairman of powerful House Finance Committee, said after the office of the US Trade Representative in its annual Congressional-mandated 301 Report refused to do the out of cycle review of India.
The administration's failure to recognise the threat of India's intellectual property (IP) abuse is a "major step back" in the US' efforts to put an end to India's ongoing unfair trade practices that are harmful to American job creators, Hatch said.
"After squandering the opportunity to crack down on India's rampant IP violations in their Out of Cycle review last year, they have now issued a report that fails to fully recognise the seriousness of India's harmful IP policies," he alleged.
"This is major step back in America's efforts to end such unfair trading practices. At a minimum India should be kept under the microscope with another targeted investigation. This lack of progress is disappointing. We must refocus our efforts and keep pressure on India to follow the rules of the global trading system," Hatch said.
Hatch this year introduced the Trade Facilitation and Trade Enforcement Act of 2015 which includes additional tools for USTR to increase the effectiveness of the Special 301 Report.
In a separate statement, the US Chamber of Commerce's Global Intellectual Property Center President and CEO David Hirschmann said the 2015 Special 301 Report offers a compelling rationale for countries to adopt much more ambitious IP models to help drive economic growth and job creation, a message consistent with the findings of GIPC's International IP Index.
"With an enhanced commitment to IP, China and India would enjoy earlier access to innovative products from the US, and encourage the creativity of nearly three billion citizens whose innovative potential remains largely untapped," he said.
"The Special 301 Report and the GIPC Index have also both identified specific areas including patentability requirements, use of compulsory licensing, forced technology transfer and localisation and copyright protection among others where reforms to strengthen IP would deliver immediate benefits for the US, Indian and Chinese economies," he added.