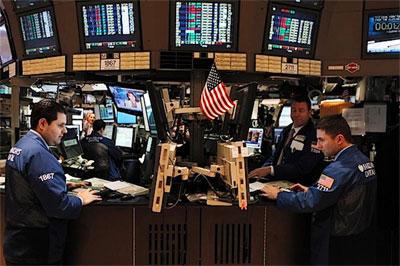 The NYSE Group, which includes the New York Stock Exchange, has suspended trading in all securities due to technical difficulties, the unit of Intercontinental Exchange Inc said on Wednesday.
The halt started just after 11:30 a.m. ET, after which US stocks slightly extended their losses, but in low volumes, with the S&P 500 hitting a session low and the Dow Jones Industrial Average and Nasdaq both falling more than 1 per cent.
NYSE tweeted that "the issue we are experiencing is an internal technical issue and is not the result of a cyber breach".
While Federal Bureau of Investigation (FBI) told CNBC that no law enforcement action was need at NYSE, the White House and the US Treasury Department said they are monitoring the "ongoing issue" at NYSE and President Barack Obama has been briefed on the matter.
"We will be providing further updates as soon as we can, and are doing our utmost to produce a swift resolution, communicate thoroughly and transparently, and ensure a timely and orderly market reopen," a spokeswoman for the exchange operator said in a statement.
CNBC citing DoW Jones said, NYSE told industry group that efforts to fix earlier problems led to broader shutdown.
The stocks continue to trade on other exchanges, such as those run by Nasdaq OMX Group and BATS Global Markets.
"It's under control," Mark Otto of market maker J Streicher & Co in New York said on the NYSE floor. "We're just waiting for word. There's no sign of panic at all."
The issues at NYSE came on the same day that computer problems led United Airlines to ground all its flights for about two hours.
US Homeland Security Secretary Jeh Johnson said there were no signs that the problems at NYSE and United Airlines stemmed from "malicious activity," CNN reported.
Just as United was bringing its systems back on-line, trading on the New York Stock Exchange came to a halt due to a technical problem and the Wall Street Journal's website experienced errors.
Johnson also said that approximately 4.2 million people, including government employees and contractors, had been notified about the recent breaches of government personnel data, but investigators are still trying to determine the total number affected by the hacks.
He said compromised data included information from government security-clearance background investigations.
Johnson also called for a new national data breach reporting system to replace the current "patchwork" of state laws, as well as enhanced criminal penalties for hacking.
The New York Stock Exchange accounted for about 13.4 per cent of all equities volume last month and 12.5 per cent Tuesday according to BATS Global Markets data.
At 12:43 p.m. ET the Dow Jones industrial average was down 207.19 points, or 1.17 per cent, at 17,569.72. The S&P 500 was down 27.22 points, or 1.31 per cent, at 2,054.12. The Nasdaq Composite was down 73.33 points, or 1.47 per cent, at 4,924.13.
US stocks were in the red even before the halt as the slide in Chinese markets spurred concerns over its impact on global economic growth. All 10 major S&P 500 sectors were lower, with the telecommunications index down 2 per cent.
Chinese shares have fallen more than 30 per cent in the last three weeks, and some investors fear China's turmoil is now a bigger risk than the crisis in Greece.