State-owned National Textiles Corporation is expected raise over Rs 5,000 crore (Rs 50 billion) from sale of about 55 acres of surplus land in Mumbai in the current fiscal, textile Minister Dayanidhi Maran said on Thursday.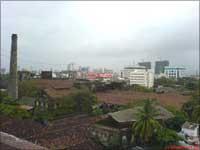 "NTC has drawn a roadmap to generate Rs 5,000 crore (Rs 50 billion) by the end of the current fiscal by selling most of its properties in Mumbai," he said in New Delhi after inaugurating the e-auction for the land vacated by two of the closed mills -- Podar Textile Mills and Bharat Textile Mills.
On the basis of Rs 100 crore (Rs 1 billion) per acre as reserve price fixed by the NTC for various properties, he said, it would be possible for the company to generate over Rs 5,000 crore in 2010-11.
The auction of about 11 acres of land belonging to Bharat Textile Mills and Podar Textile Mills may fetch the NTC over Rs 2,000 crore (Rs 20 billion) while over Rs 3,000 crore (Rs 30 billion) would be mopped-up from sale of six other mill-surplus land in Mumbai, a textiles ministry official said.
The bidding process for sale of land owned by Podar Textile Mills began on Thursday and will continue till Saturday evening while bidding for land of Bharat Textile will begin on August 4.
The eight companies, which have been shortlisted for participating in the bidding process for land owned by Podar Mills, include state-owned NBCC, Indiabulls Infratech and Lodha Farms.
The seven companies, which will be participating in the bidding process for Bharat Textile's land include Indiabulls Infratech, Videocon Realities and Lodha Developers.
The Corporation had raised about Rs 4,000 crore (Rs 40 billion) in the last four years by sale of 26 properties in Mumbai and other parts of the country, said NTC chairman and managing director K Ramachandran Pillai.
The money raised by the NTC, he added, is being utilised for diversifying the company into a integrated textiles company consisting ginning, spinning, weaving, processing and garmenting by the end of the current fiscal.
Currently, NTC has total 1,300 acres of surplus land in various parts of the country including Mumbai, Karnataka, Indore and Coimbatore.