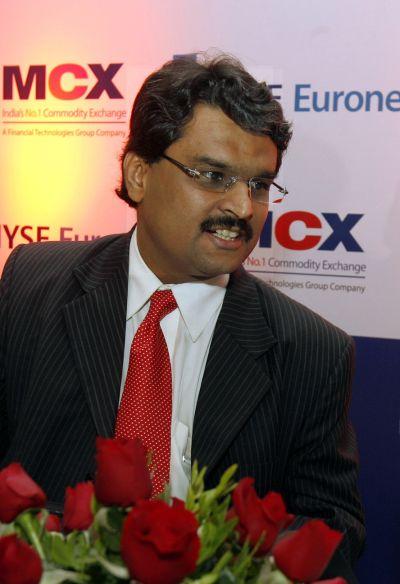 Jignesh Shah, the promoter of National Spot Exchange Ltd (NSEL), and its former CEO Anjani Sinha on Friday traded charges in connection with the multi-crore payment crisis at the crippled bourse which has affected over 13,000 investors.
The drama took place as officials from Mumbai Police's Economic Offences Wing (EOW) grilled Shah in the presence of Sinha, who is in police custody in connection with the fraud.
This was the second time that Shah was questioned by police. Shah is Chairman and Managing Director of Financial Technologies (India) Ltd (FTIL), which controls NSEL.
During questioning, Sinha squarely blamed put the blame for the crisis on Shah and other board members, saying he had merely executed the directions issued by them, Joint Police Commissioner Himanshu Roy said.
Shah, on the other hand, held Sinha responsible for the payment crisis, which came to light in July, he said. So far, police have arrested four persons, including Sinha, in the Rs 5,600-crore scam and several matters had come to light during interrogation, Roy added.
"We wanted to verify the details given by the arrested accused and hence we called Jignesh for questioning," he said. Apart from Sinha, the others arrested in the case are Amit Mukherjee, Jay Bahukhundi (both former Assistant Vice-Presidents at NSEL) and Nilesh Patel, Managing Director of NK Proteins, one of the biggest defaulters of NSEL.
The arrests were made between Oct. 9 and 22. While Sinha and Patel are in police remand, the other two are in judicial custody.
According to the police, Shah appeared before EOW officials at about 11.30 A.M. and his questioning continued till 6 P.M. "He will be called again if required," police said. Sinha, Patel and Shah were brought face-to-face during the questioning.
Police, however, did not discuss the claims made by Patel. "In an affidavit filed in court, Sinha had blamed himself, besides the NSEL board, for the payment crisis. He, however, filed another affidavit with police days before his arrest in which he put the entire blame on Shah," Roy added.

Meanwhile, it has emerged that Mukherjee, who is in jail, used to hunt for companies that were blacklisted by banks in order to offer them loans. Mukherjee used to look after business development at NSEL.
"Banks do not offer loans to companies blacklisted by them. Mukherjee used to approach the banks seeking data on blacklisted companies and would then go to these companies with a promise to get them finance from NSEL," said another police officer.
An FIR was registered on Sept. 30 in the case by EOW against the NSEL directors, including Shah and Joseph Massey, Sinha, promoters and defaulters.
All of them were charged with cheating, forgery, breach of trust, criminal conspiracy and other offences under IPC. On Oct. 1, CBI, too, registered a preliminary inquiry into the case.
Police have also invoked the Maharashtra Protection of Interest of Depositors (MPID), Act, against the accused, which empowers investigators to attach immovable assets of the accused and auction them off.
NSEL had been facing problems in repaying the Rs 5,600 crore in dues that it owes to 148 members/brokers representing 13,000 investor-clients after it suspended trading on July 31 following a government directive.