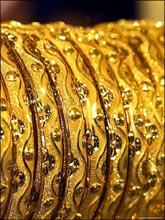 Amidst recession and job losses, Britons of Indian origin and others have been flocking to jewellery shops to cash in on rising price of gold, selling their rings, chains and even dental braces made of gold.
The price of gold reached an all-time high of 757 pounds an ounce earlier this month, and scrap gold dealers are reported to be offering up to 100 pounds for a set of braces.
Jewellers are worried that they will be left with a lot of stock if the price drops.
In the east Midlands town of Leicester, which has a large Indian-origin population that supports the 'Golden Mile' comprising several jewellery shops, a surge in people offering to sell their jewellery has taken many shop owners by surprise.
Advertisements on television, radio and in newspapers have alerted people to current prices of gold and jewelers say that has placed them into a buyers' market.
The Golden Mile in Leicester is reputed to be a major centre for jewellery in Europe, and jewellers there have close links with the jewellery industry in Gujarat.
Dharmendra Dhanak, a partner at JP Dhanak jewellers, said: "I think about 65 per cent of my customers are selling me things rather than the other way around. In 35 years, I've never seen anything like it."
"In 1976, gold prices were similar but people weren't selling. Three years ago, it was about 6 pounds per gram but now it's nearly 20 pound."
Dhanak added: "A couple of years ago it was rare for someone to come in and sell to us but now we have about 15 people a day.
He said because they were not selling as much they will melt it down and sell it back to bullion dealers.
Jagdish Jogia, owner of MM Jogia, said: "The market is so volatile and the price is changing all the time but people are aware that gold prices are very high right now. But people are not buying, they just want to sell it."
The London Lingual Orthodontic Clinic is among the many that have witnessed a rising demand for gold braces.
Dr Asif Chatoo, its co-founder, told the media: "Previously the braces were sent away to be recycled. But with gold prices rising, patients have increasingly asked if they can keep their braces and convert them into small items of jewellery or get them melted down."
As customers are happy that their jewellery is fetching high prices, jewellers are concerned about the impact it will have on them.
Lisa Smith, owner of Smith's Jewellers, said prices had gone up tenfold since she opened her store three years ago.
She said: "It's actually quite risky for us because it the price of gold suddenly drops then we'll all lose a lot of money."