At the moment, Chillr doesn't charge for transferring money and wants to keep it that way for a while.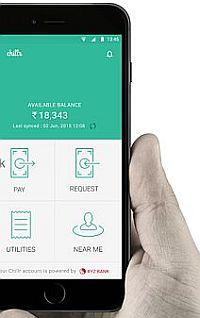 How do you eliminate cash, credit card and mobile wallet? It is a quandary that keeps Sony Joy, founder of Chillr, up at night.
Chillr is currently a person-to-person money transfer app.
It helps a user transfer cash to any person on their mobile phone contact list via the app without having to know the recipient's bank account details.
The app, linked to a user's bank account, also allows one to recharge pre-paid phone and pay utility bills.
"It is WhatsApp for money," says Joy. Select a person in your contact list on your mobile, key in the amount needed to be transferred, type in your PIN and the transaction is complete.
Why not use mobile wallets instead of his app? "Why debit money from your account to a wallet where it won't earn any interest?" asks Joy.
Chillr recently raised $5 million from Seqouia Capital.
It is in the process of tying up with merchants in Mumbai to offer customer to merchant transfer.
The company started operations in 2013 and had a beta launch of the app this February.
Before Chillr, Joy ran a value-added service or VAS and business-to-business mobile solutions company called MOBME, while he was still in college in 2006. He got some funding then and started making apps for mobile service providers.
But, they wanted it to be White Label and exclusive to them.
"There was no way in which I could build a brand," he says. So, he started Chillr.
The company has HDFC and Bank of Baroda on board, and plans to get 15 others by the end of FY16.
It boasts of 370,000 app downloads and 460,000 transactions so far. It also claims to have 8,000-10,000 transactions a day.
The market is still to mature but adoption is growing, says Joy.
Show me the money
At the moment, Chillr doesn't charge for transferring money and wants to keep it that way for a while. Joy's primary source of revenue is a small percentage from the vendors or service providers, like credit cards.
"If you go drinking and wake up the next morning, extremely hung-over, what are you going to miss quicker - your phone or a credit card?" he asks.
But, Chillr is not a phone-based credit card. "A credit card doesn't give you a list of vendors offering deals in your area every day," says Joy.
Some of these deals are incentivised by Chillr, which the company will use to acquire customers. That makes it a capital-intensive business. "I'm aware this isn't viable in the long term. But, once we get people used to it, we'll be able to phase it out."
Joy expects his customer for vendor programmes to be his bread winner for now.
"The vendor won't be on your contact list, but will have a unique alpha-numeric code, which will allow you to identify the merchant and pay your bill. The vendor will see on his screen your details as well," he explained.
While this is one of his big plays, as time passes, he means to get into loan dispensing via the app.
"The bank will know your balance, it will know how much you make and we'll know your social score. Tentatively, I think, if we can tie up with CIBIL, we'll be able to give a select few a pre-approved loan based on their KYC (Know Your Customer), which will be with the bank," says Joy.
Expansion plans
The company is in the process of running pilot programmes with merchants in Mumbai and hopes to reach 20,000 by the end of the year. "We plan to be in 13 cities by the end of the year," says Joy. His customers tend to stay on and praise the stickiness of the idea.
"I don't use the app frequently but I use it top-up my son's prepaid number and send money to my daughter who is studying in Bengaluru. I could use a wallet but like to keep it separate because that is for my cab rides," said T Unnikrishnan, a businessman from Mumbai.
Its investor, Seqouia Capital, has been particularly pleased by the platform, the kind of enthusiasm Joy shows, as well as the idea. "We found Chillr to be the easiest app in the market and in our opinion, it is the best for consumers," says Shailesh Lakhani, managing director, Sequoia.
"With less than five per cent of India transacting online, the biggest competition is cash." He adds there are very few people who have vision as well as product. "Joy and his team is a mix of someone who have both," Lakhani notes.
Wallet companies encourage Chillr's addition to the system.
"[Chillr] is an avatar of a mobile wallet. These companies have huge scope in India due to the rising mobile penetration and the need to eliminate cash. Originally, person-to-person was used primarily by migrant labourers to send money home but agents took that away. We eliminate these charges," says Anish Williams, chief executive officer, Transerv, a mobile wallet company that specialises in social gifting, person-to-person transfer and bill splitting.
FACT BOX
Company: Chillr
App launched: February 2015
Funding: $5 million from Sequoia Capital in October
Number of transactions: 8,000-10,000 a day
EXPERT TAKE
These apps have a good future in India. I won't be surprised that in a few years people will be using apps more often than not for day to day transactions.
Also, people who are not comfortable using net banking, these apps help them perform low-value transactions.
These low value transactions are where cash is used the most and that is what these apps will eliminate.
What also works in their favour is that it is easier to teach someone how to use an app, as internet-enabled phones have a significant penetration in the country.
Fin-tech has a huge scope in India, which is why such companies are seeing traction. Even the banks won't find them as a threat as their core function is lending and this will just add to their user base. The problem is that these apps are not pan-India and volume is yet to pick up. But whether or not these apps find success, only time will tell.
(Sanjay Doshi, KPMG, Partner - Financial Services, Deal Advisory)