The Boeing 787 Dreamliner, which is widely expected to be inducted into Air India soon, will be displayed at the India Aviation Airshow 2012, beginning at the Begumpet Airport in Hyderabad from March 14 to 16.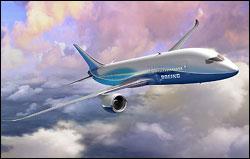 "We are proud to bring the Dreamliner to India Aviation 2012, which is a perfect place to showcase it. It will land at the Begumpet Airport on the eve of the show and will be on a static display, depicting the flying swan with the Konark Chakra," Boeing senior vice-president for commercial airplanes sales for Asia-Pacific & India, Dinesh Keskar, said in a statement.
An Air India spokesperson, too, has confirmed the development.
"The aircraft will be showcased at the India Aviation. This will give everybody a chance to get an idea of the look and feel of the aircraft," the AI spokesperson said.
A Cabinet decision is still awaited on the induction of Dreamliner into the cash-strapped AI fleet, though Air India had ordered 27 Boeing 787s in 2006, as part of a big ticket deal for 68 aircraft from Boeing.
If inducted, the Dreamliners are expected to reduce operating costs in terms of maintenance and enable quicker turnarounds, with 20 per cent less fuel consumption, resulting in more flying hours.
These aircraft are expected to fly up to 16,000 km non-stop and are suitable for long to medium-haul routes like Mumbai-Sydney, Delhi-Tokyo, Delhi-New York or Delhi-Toronto.
They are expected to come equipped with best-in class seats for 256 passengers, designed by Contour Aerospace and Weber Aircraft, on contract from Air India.
Contour is expected to provide 18 business class seats, while Weber would provide 238 seats for the airline's economy class section.
On induction, the aircraft would also have the I-8000 in-flight-entertainment system from Thales, a French electronics, defence and aerospace company.