Your brand is in the midst of a huge controversy sparked by security concerns over one of its most attractive features.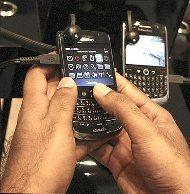 That's a good enough reason for your customers to shy away from your products. So what else can you do apart from trying to convince the government against banning the service? Ask Research in Motion, makers of Blackberry phones.
Even as the government is mulling a possible ban of the popular corporate email service should RIM fail to provide it with decryption keys, Blackberry, in partnership with Vodafone, has come up with an in-your-face kind of campaign that makes no reference to the controversy.
"We are the Blackberry Boys" goes the latest Vodafone-Blackberry advertisement. It starts with the image of a few suit-clad men claiming to be cool because they use BlackBerry. But soon a bunch of youngsters join the gang and start singing about chatting and surfing.
The new campaign called 'Not just the office guys' talks about how the mobile device is now a favourite with youngsters who use it for BlackBerry messenger (which is at the centre of the controversy) and social networking.
"Instead of trying to bore customers with a defence of its role in the controversy, it's a great way of reassuring your customers that all is well and they should do what only they can do the best – use Blackberry extensively," says an advertisement expert.
The campaign also seeks to break Blackberry's only-for-the-corporate image and targets the youth who is known for heavy data usage.
"The campaign is all about telling them that the BlackBerry service is no more exclusive to a certain segment," says Rajiv Rao, National Creative Director of O&M, the agency behind the campaign.
The promotion also talks about introduction of a pre-paid scheme by Vodafone for BlackBerry users, thereby making these plans more affordable.
Until now BlackBerry was available only on post-paid connections as these were used by enterprise users.
Anuradha Aggarwal, Vice-President-Marketing of Vodafone Essar, says the BlackBerry brand is repositioning itself, as its primary audience is no longer corporates.
"One would be surprised with the enthusiasm of young customers who save money just to buy a Rs 15,000 Blackberry phone. With the pre-paid offering, they can manage their budget better", Aggarwal says.
The pre-paid BlackBerry plans by Vodafone come with daily and monthly cycles and range between Rs 599 a month to Rs 6,000 a year, depending on the plan chosen. Pre-paid plans start from Rs 15 a day to Rs 399 a month.
Vodafone says that there is a lot of demand for the pre-paid segment for BlackBerry service.
"There are BlackBerry users who do not use the entire suite of offerings and this plan can help get them into the fold. We are also seeing new subscribers coming and the rate of growth has increased," says Aggarwal.
A soft launch of this plan was done a month ago, but the advertising started last week.
Analysts agree and say BlackBerry's advantage lies in pricing and its recent move to strengthen its retail base.
The recent focus of RIM to tap the retail customer has helped it to penetrate the market.
For instance, RIM, which earlier had presence in only nine cities in India, has increased it to 70 cities.
There are 46 million BlackBerry users in over 175 countries and it is estimated that there are at least one million BlackBerry users in India
"This ad will be very re-assuring to existing BlackBerry users as well as confidence builder for new users to start using the service. It absolutely tells you that everything is fine with BlackBerry," says an official who worked on the campaign.
In India BlackBerry services are offered by carriers like BSNL, Bharti Airtel, Vodafone Essar, BPL and Reliance Communications.