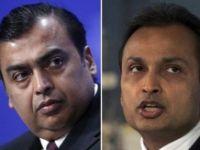 The takeover of media group Network 18 by Reliance Industries last week has made Mukesh Ambani and his brother, Anil Ambani, co-investors in travel portal Yatra.com.
The original investors of the company include Anil Ambani's Reliance Capital, Norwest Venture Partners and TV18, a Network 18 group company.
The Ambanis had carved out their separate business interests in 2005 but dissolved a non-compete agreement last year to collaborate in telecommunications.
Yatra.com began operations in 2006 and is among top three travel portals in India with a market share of about 20 per cent. In 2012-13 Yatra.com earned a revenue of Rs 162 crore (Rs 1.63 billion) and made a loss of Rs 77 crore (Rs 770 million).
Its board of directors include Pramod Haque, managing partner of Norwest Venture Partners, co-founder and CEO Dhruv Shringi and Sarbvir Singh, managing director of Capital 18, the private equity arm of Network 18.
Network 18 Media & Investment's balance sheet of 2011-12 says the company held about Rs 28.19 crore worth of equity and preference shares in Yatra Online Inc, the portal's holding company.
Reliance Capital's holding in Yatra.com could not be ascertained, but a source said it owned around 15 per cent.
The spokespersons for Reliance Industries and Reliance Capital declined to comment on the issue. The Yatra.com spokesperson did not respond to queries at the time of going to press.
The portal's other investors include private equity and venture capital funds like Intel Capital, IDG Ventures India and Vertex Venture.
The latest round of funding of about Rs 140 crore (Rs 1.40 billion) came from IDG, Vertex and Norwest, Yatra.com announced in May. Actor Salman Khan also owns a stake in portal and is its brand ambassador.
Yatra Online Private Ltd, the portal's registered name, is owned by a company in Cyrpus which, in turn, is owned by Yatra Online Inc. Yatra.com has an equity share capital of Rs 5.8 crore and is fully owned by Travel Holding Cyprus Ltd, according to the company's balance sheet for 2012-13 filed with the ministry of corporate affairs.
The company has issued equity shares of Rs 10 par value and they carry a premium. Yatra Online Private Ltd has not issued any preference shares.
An industry source said Reliance Industries did not have a controlling stake in Yatra.com through its acquisition of Network 18. It was just a financial investment.
Seventy per cent of revenue is from airline ticketing and 30 per cent is non-air. By 2016, it will be close to 50:50. Hotels and packages are growing much faster because of the sheer size of that market.
Third, you have mobile penetration. A lot of people who could not connect to the net have access to mobile and smart phones, bringing more bookings for us. In the past 12 months, we have seen tremendous growth on the mobile front. ," Yatra.com's CEO Dhruv Shringi told Business Standard in an interview in March.
Big plans
* Founded in 2006
* Founders - Dhruv Shringi, Manish Amin and Sabina Chopra
* Investors - Yatra.com is backed by Norwest Venture Partners (NVP), Reliance Capital, Network 18, Intel Capital, Vertex Venture Holdings and IDG Ventures
* Revenue in FY13 - Rs 162 cr (Rs 1.62 billion)
* Net loss in FY13- Rs 77 cr (Rs 770 million)