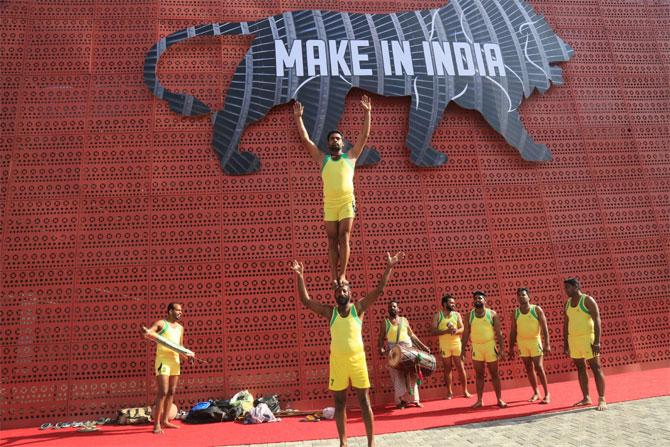 Manufacturing sector growth in India got hampered in November as rupee demonetisation weighed on new work flows, buying activity and production, while subdued inflationary pressure may prompt RBI to reduce key policy rate, a monthly survey said today.
The Nikkei Markit India Manufacturing Purchasing Managers' Index (PMI) -- a gauge of manufacturing performance -- fell to 52.3, down from October's 22-month high of 54.4.
A reading above 50 in terms of manufacturing performance indicates expansion, while anything below it means contraction.
"PMI data for November showed that the sudden withdrawal of high-value banknotes in India caused problems for manufacturers, as cash shortages hampered growth of new work, buying activity and production," Pollyanna De Lima, Economist at IHS Markit and author of the report, said.
November data highlighted an 11th consecutive monthly improvement in manufacturing conditions across India.
"However, whereas some may have anticipated an outright downturn, the sector held its ground and remained in expansion mode," Lima said.
Furthermore, although many surveyed companies commented that further disruption is expected in the near-term, the demonetisation of the rupee is anticipated to ignite growth in the long run as unregulated companies leave the market, Lima added.
Softer expansion in new business inflows affected manufacturing sector growth during November as order books rose at a moderate pace which was the slowest since July.
Panelists reported higher demand from domestic as well as external clients, but indicated that growth was hampered by the money crisis, the survey said, adding, money issue was the main reason listed by respondents for softer growth in input buying.
On the prices front, the report said that though there was an overall increase in input costs, the rate of inflation eased since October.
"Of respite to firms, cost inflationary pressures softened, which in turn encouraged the vast majority of businesses to keep their selling prices unchanged. If this trend is sustained, we will likely see further cuts to the benchmark rate," Lima said.
The Monetary Policy Committee, headed by RBI Governor Urjit Patel, in October cut benchmark interest rates by 0.25 per cent to 6.25 per cent. The next RBI policy review is on December 7.
Photograph: Sahil Salvi.