Online biggies and global retail giants are working on being omnipresent in both the virtual and the real world to see what helps them get the numbers, says Karan Choudhury.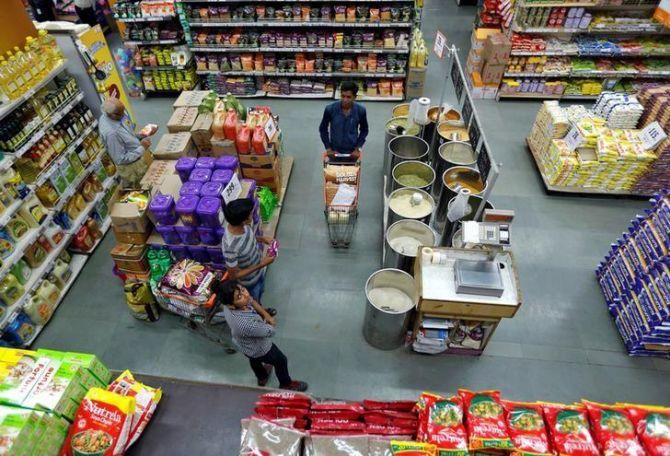 In the jargon filled world of retail giants, where weekly brainstorming sessions are held to fine-tune their 'retail philosophy', and terms like client stickability, repeat traffic and most recently omni-channel, which is having an online as well as offline base to sell products, are regularly thrown around, Kishore Biyani, the outspoken group CEO of Future Group, likes to keep things simple.
His logic is straightforward. "It does not matter whether one is selling online or offline, customers should keep on coming," he told Business Standard.
While his company has been rapidly on-boarding technology to make the retail experience more interactive and intuitive by bringing in expertise straight from the Bay Area, Biyani strongly believes that offline retail is here to stay and sooner the online players realise it the better.
"You know it is very elementary but tech companies do not realise this. Man is a social animal, period, they cannot be confined to homes, they want to go out, touch and feel products, get that wholesome shopping experience, sitting at home in front of screen, one will never get that. This is why brick and mortar shops will never go out of fashion," he said.
Biyani is, however, calling dibs on the omni-channel strategy as well.
"I am not an offline player as people perceive, we are the biggest proponent of the O2O (online-to-offline) strategy. We have so many marketing campaigns online from which we get offline customers. Customer only wants quality, convenience and price," Biyani said.
Online ecommerce biggies as well as global retail giants elbowing each other for the top spot in India, have understood this logic -- some sooner than others -- and are working on being omnipresent in the virtual as well as the real world.
From spending $ 16 billion to acquire India's largest ecommerce company, plans to buy a stake in the country's largest retailer to opening brick and mortar stores to be closer to customers, players are trying every possible permutation and combination to see what helps them get numbers.
Pushing the cart into the real world
In the last three years, online marketplace giants such as Amazon India, Flipkart, Paytm Mall are all working on their O2O strategy.
Surprisingly, it is Paytm Mall, the smallest of the three players, that seems to have a leg up over others.
The company in an effort to differentiate itself from others has always been bullish on its O2O strategy.
Paytm Mall has over the last one year created a healthy mix of offline and online sellers on its platform.
Of its 75,000 sellers, the company has 30,000 to 35,000 sellers who have brick and mortar stores, and plans to triple this number by the end of this year.
According to Paytm Mall, having such sellers on the platform reduces time taken to deliver services, which would come in handy when the company plans to expand its grocery play.
This year, the company would bring in more offline sellers and shopkeepers on the platform, and bolster its backend logistics.
It hopes these measures would help increase the number of repeat customers coming to Paytm Mall.
"Deeper shopkeeper and seller penetration in all pin-codes, return customers, stronger logistics network are a few of the things we are working on.
"The idea is to double down on the plan that we had in terms of the online-to-offline strategy. We have an aggressive expansion plan for this year.
"As far as the seller base is concerned, we plan to increase it from 75,000 to 300,000 by the end of this year," Paytm Mall chief operating officer Amit Sinha said.
But it is Amazon India which analysts and industry watchers believe would go for a massive offline push this year around.
Globally, the company has been steadily increasing its brick and mortar footprint.
Last year, Amazon bought Whole Foods for $ 13.7 billion, which made it the owner of close to 500 stores worldwide.
The Jeff Bezos led company is also experimenting with Amazon Go, a grocery store without cashiers or a checkout line, in Seattle and after fixing some issues plans to open more in stores in the US and eventually take it global.
While Amazon India claims that it is concentrating on its online platform and bringing 100 million users to its platform, experts believe that the company is actively looking at an offline ally.
Last year in September, Amazon NV Holdings, bought five per cent equity in Shoppers Stop for Rs 1.79 billion.
According to sources in the know, the global ecommerce biggie has already started preliminary discussions with a host of Indian supermarket, hypermarket and retail companies to buy stake in the firms.
Sources said that the company plans to initially take a minor 10 per cent to 15 per cent stake in the firm and would later scale up the investments.
Retailers dabbling in big-tech
This year witnessed India's biggest stake sale ever when Walmart bought a 77 per cent stake in Flipkart, in an attempt to enter the Indian market and sell directly to customers.
According to sources close to the company, Walmart wants to make Flipkart its gateway for omni-channel growth in India.
Although it is still a little far from its dream of doing multi-brand in retail, owing to government restrictions on foreign direct investment in multi-brand retail, analysts believe that with the government looking for FDI, it might be allowed in the near future.
"With Flipkart, it will create that online platform for its omni-channel approach. Whenever it finally opens its B2C stores, Flipkart would be its biggest ally," said a senior executive of a major retail firm.
In an investor call, Walmart's Doug McMillon, president and chief executive officer, made it clear that Flipkart, which has done well over the last few quarters, would help it learn about the ecosystem.
"We want to get the learnings from Flipkart and take it to other parts of the world," he said.
Photograph: Amit Dave/Reuters.