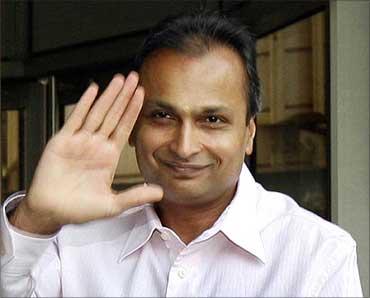 There is nothing much for Anil Ambani group firm Reliance Natural Resources Ltd to renegotiate with Reliance Industries Ltd, as the price and quantity of gas it is seeking will be dictated by the government policy and the tenure of supply will depend on life of the fields.
"There is nothing much for Anil Ambani to renegotiate. The entire basis of his claim was the family memorandum of understanding which was set aside by the Supreme Court. Nothing will happen in six weeks", said senior partner of law firm Titus and Co, Diljeet Titus.
The government has already fixed the price of gas from RIL's KG-D6 fields at $4.20 per mmBtu, compared to the $2.34 per mmBtu sought by ADAG firm RNRL.
Deepak Mahurkar, associate director, oil and gas practice, of the global consultancy firm PricewaterhouseCoopers said, "Although Supreme Court has asked for renegotiation, it appears RNRL is not likely to get any gas from the KG Basin. Firstly, the company (RNRL) may not be able to afford
gas at higher prices and, secondly, the government may not be left with gas to allocate".
Besides the price, the government has fixed users for over 90 mmscmd of output from KG-D6 fields. 64 mmscmd of this is on long-term basis and the rest is temporary. RIL's current output from the fields is 62-63 mmscmd.
For many years to come and till the demand-supply gap is bridged, he said, "The government is expected to decide the gas price. It will have the final say."
A Supreme Court bench headed by Chief Justice K G Balakrishnan on Friday rejected RNRL's plea for cheap gas from RIL on the basis of a family MoU, while upholding government's right to price gas and decide its utilisation.
The Apex Court also gave six weeks time to warring parties to re-negotiate the gas purchase agreement.
The Supreme Court judgment, Titus said, "Sets a wrong precedent as it would allow contracting parties to wriggle out of an agreement citing reasons of public interest or with the help of government intervention. It also sets a precedent where government is being allowed to override a private contract."
The verdict is not an investor friendly judgement, he said, adding "as the Supreme Court ruling is binding on other courts, it will be cited by parties to come out of contract. The judgment will also have implications for similar family arrangements."
According to Mahurkar, "The Apex Court verdict does not clearly support family arrangement. The Supreme Court has, however, directed that the renegotiations need to balance the interest of shareholders of both the companies."
Anil Ambani said that RNRL currently has no plans to seek review of the Apex Court's verdict.