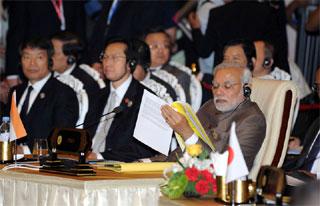 Prime Minister Narendra Modi on Thursday told world leaders that his government accorded high priority to turn India's erstwhile "Look East" policy into an "Act East" policy.
"Since entering office six months ago, my government has moved with a great sense of priority and speed to turn our 'Look East Policy' into 'Act East Policy'," Modi said in his address to the East Asia Summit in the Myanmarese capital Nay Pyi Taw.
"The East Asia Summit is an important pillar of this policy," he said.
"Look East" was introduced in the early 1990s when the Congress party's PV Narasimha Rao was prime minister. It was endorsed by former prime ministers Atal Bihari Vajpayee and Manmohan Singh.
Modi said the initiatives taken by the East Asia Summit in disaster preparedness and response are truly commendable.
"No other forum brings together such a large collective weight of global population, youth, economy and military strength. Nor is any other forum so critical for peace, stability and prosperity in Asia-Pacific and the world," he said.
The one-day summit was attended by a galaxy of world leaders including US President Barack Obama, Russian Premier Dmitry Medvedev and Chinese Premier Li Keqiang.
Modi was in Myanmar for the India-ASEAN and the East Asia summits on the third day of his 10-day three-nation tour, the next leg of which includes a visit to Australia and Fiji.
ASEAN comprises 10 countries - Brunei, Cambodia, Indonesia, Laos, Malaysia, Myanmar, the Philippines, Singapore, Thailand and Vietnam.