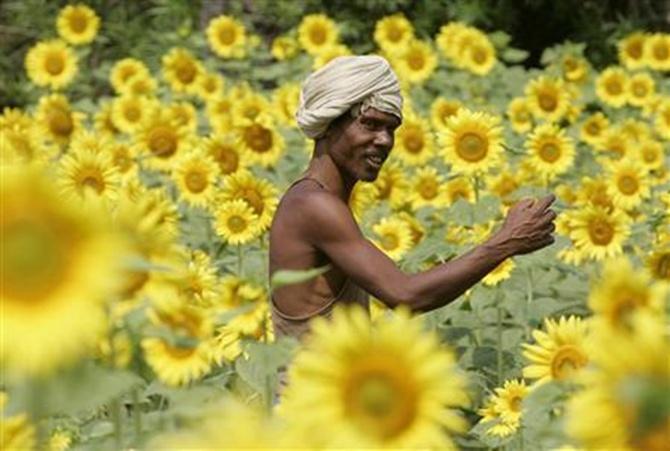 Shiromani Akali Dal MPs said land should only be acquired for public sector projects and the 'government should not get into acquisition for private entities'
Adding to the woes of the Narendra Modi government, three of Bharatiya Janata Party allies -- Shiv Sena, Shiromani Akali Dal and Swabhimani Paksha -- have written to the joint parliamentary committee, examining the controversial land acquisition Bill, opposing the amendments proposed by the government. Sangh Parivar-affiliated outfits have also been opposing the Bill.
In their letter to the committee, SAD MPs had opposed the amendments to the Land Acquisition, Rehabilitation and Resettlement Act, 2013.
"Not even an inch of it should be acquired by the government without the consent of the farmers/land owners." they said.
The MPs said land should only be acquired for public sector projects and the "government should not get into acquisition for private entities".
They added farmers should not be denied the right to approach court for redressal of grievances.
SAD is a votary of foolproof safeguards for compensating not only farmers but also those 'dependents on land, including farm labourers', the letter said.
SAD has consistently opposed repeal of the consent and social impact assessment provisions of the Act.
SAD has demanded that whenever the land is acquired, farmers should be given the option of accepting compensation on market rate plus displacement allowance of 30 per cent of market price of the land, or join a land pooling process, like what is done under a policy in Punjab.
"Punjab has a land acquisition policy in place, which ensures no land is acquired forcibly," it said.
Swabhimani Paksha, led by Lok Sabha MP Raju Shetty, wanted the 'consent of 70 per cent of farmers' to be retained.
It demanded five-time compensation for the land acquired for public-private partnership infrastructure projects.
The Act provides for four-time compensation on the existing market rate, which has been left unchanged in the NDA's Bill.
Shetty said the peasant movement that he has been leading in Maharashtra, the Swabhimani Shetkari Sangathana, will support the law 'only if the above amendments are included'.
The party also opposed the NDA's Bill modifying the five-year clause and the government should not allow the change of land use for the purpose of acquisition.
"In the event any change is proposed, government shall notify and the farmer will be entitled for revoking his consent or additional compensation as per market value," it said.
"Never acquire the fertile land except for military or high priority projects in the interest of the national interest," the Paksha said.
The Shiv Sena, the second largest constituent of the National Democratic Alliance, has 18 MPs in the Lok Sabha and three in Rajya Sabha, while Shiromani Akali Dal has four in the Lok Sabha and three in the Rajya Sabha. Raju Shetty is the lone MP from his party.
Image: A farmer works in a sunflower field in Khatihari village. Photograph: Parth Sanyal/Reuters