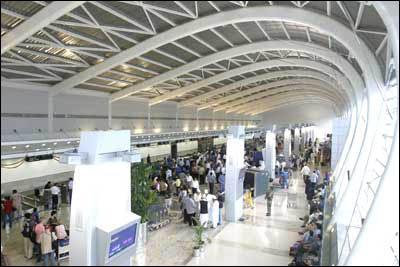 In a bid to increase non-aeronautical revenue, the Airports Authority India plans to tweak the norms of tenders for duty-free shops in airports.
According to sources, the AAI has decided to increase the tender period from three years to seven years.
The move comes in the wake of the civil aviation ministry finding the AAI has been unable to attract interest from top brands.
Earlier, the AAI had called for short-term tenders to set up duty-free and retail shops in Chennai, Kolkata, Ahmedbad and Jaipur airports.
However, many reputed brands did not participate because the contract duration was only for three years and because of the uncertainty in privatisation of the airports.
Around 10 world-class duty free companies came forward to bid for the airports, but they backed out owing to lack of clarity in AAI's policy and also because of the numerous clearances they had to get to set up shops.
The companies were wary of investing when they found out they would lose around a year obtaining permissions and clearance for a three-year contract," said an official with Kolkata airport.
He added AAI was planning to increase the size of duty-free areas in airports with heavy passenger flow.
For the Kolkata airport, there is a proposal to increase the duty-free area to 600 sq metre -- five times the size of the existing 120-sq m section where travellers have few options.
Simultaneously, the retail area is to be increased to 1,050 sq m, three times larger than the area where a dozen-odd shops operate.
The recently-announced global tender for the duty-free shops in 14 airports across the country also has a seven-year time period.
An executive with a company having duty-free shops in international airports said: "It's natural that companies will not be interested to participate in such a long bureaucratic process for a business of three years; if changed, it will be good for AAI's revenues.
The AAI's non-aeronautical revenue stood at Rs 1,241 crore (Rs 12.41 billion) in 2013-14 (latest available data).