There is no proposal "for now" to revise train fares, Railway Minister M Mallikarjun Kharge said.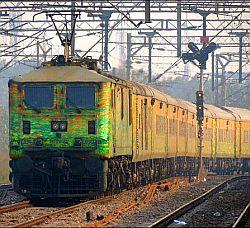 "There is no such proposal before the Railway Ministry for a revision of train fares for now," he told reporters during his visit to the Rail Wheel Factory in Bangalore.

Kharge said passenger fares will be adjusted according to the cost of the fuel every six months, but "for now" there is no proposal in this regard.

On projects in Karnataka, Kharge said the Railways have proposed to set up an administrative office in Gulbarga city to augment the Solapur division of the South-Central and Central Railway.

He said there was also a proposal to set up a unit at Yadgir in Karnataka for manufacturing spare parts of Linke Holfmann Busch (LHB) coaches at cost of Rs 750 crore (Rs 7.5 billion).

"The unit will cater to the spare parts needs of Rae Bareli (Uttar Pradesh), Kapurthala (Punjab) and Perambur (Tamil Nadu)
coach factories," he said.
Rs 75 crore (Rs 750 million) has been earmarked for the purpose in the supplementary budget, Kharge said.
He said the state government has agreed to give 150-acre for setting up Yadgir unit and the cost will be borne by the Railways, which expects the unit to function by February.
Kharge said Railways have acquired 3.5-acre land on which the defunct Binny Mills in Bangalore is situated.
Railways will develop Yelahanka as the third terminus station for Bangalore, and spend Rs 18 crore (Rs 180 million) on it.
Kharge said rail connectivity to Vaishnodevi Temple had become a reality after completion of the track-laying work. The Railways have also got clearance from the Railways Safety Commissioner and efforts are on for inaugurating the project soon.