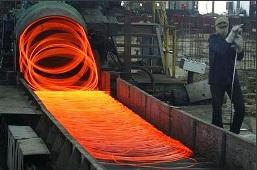 NMDC has increased its iron ore prices by around 10 per cent but steelmakers are still studying the impact.

They say a price review may happen in the coming days.


The major steelmakers that buy ore from NMDC are state-owned Rashtriya Ispat Nigam Ltd, Essar Steel, JSW Ispat and JSW Steel.

Of these, JSW Steel is currently using ore it bought from Karnataka's e-auctions.

The company has two to three months' supplies at its plant.

The Supreme Court had asked NMDC to mine a million tonnes of ore a month and the company is currently doing 0.55-0.6 million tonnes.

Essar Steel, which buys most of its quantities from NMDC and from local miners has said it will review prices based on the increase by NMDC.

Tata Steel, which has its entire iron ore captive, from its own mines, hasn't increased prices.

Even if the company does do so, it will be mainly on the back of the demand revival and not raw material push.

Jayant Acharya, director (sales and marketing), JSW Steel, said the company had not raised prices.

"We are not too sure. We will look at the situation and then take a call," he said.

The steel demand in India, on an average, has grown by 8-10 per cent in the past five years, barring the financial year that just ended.

In FY12, the steel demand grew a mere five-six per cent, half of what was projected. However, the tide has turned and steelmakers are seeing renewed buying and stocking from customers.

An analyst tracking the sector said, "There is some activity on the construction and infrastructure
development side which is pushing demand.
"If steel prices go up, it will be purely because of the higher demand that these companies will try to cash in."
International raw material prices, too, do not add to the case for domestic price rise.
In a report dated April 30, Sanjay Jain and Pavas Pethia of Motilal Oswal wrote that steel prices world over had gone down.
They said, "Steel prices decreased 0.5 per cent, 0.4 per cent, 0.7 per cent and 0.8 per cent, week-over-week in Europe, North America, West Asia and Russia, respectively.
Prices were flat/mixed in China and Turkey."
The government, in the Union budget, had announced an increase in Customs duty on flat steel from five per cent to 7.5 per cent.
This had given room for domestic steelmakers to increase prices by two to three per cent.
However, raising prices any more in the wake of falling international prices might make steel imports at decent margins possible again.
The cost of a hot-rolled coil from CIS countries is currently at $650 a tonne and $692 a tonne from China.
At $650 a tonne, the cost of steel comes to Rs 34,020 a tonne ($1=Rs 52.5).
Adding other charges, like Customs duty, insurance and port charges, the landed cost is close to the domestic price.
However, according to the two analysts quoted above, the price trends in India were mixed, as HRC prices gained one per cent week-over-week to Rs 40,118 a tonne.
"Sponge iron prices declined 1.7 per cent week-over-week and scrap prices fell 0.3 per cent," they said.
Iron ore prices, too, came down by one per cent week-over-week to $148 a tonne.