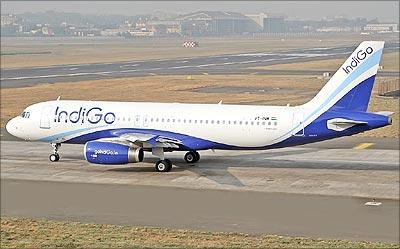 Domestic carriers flew 28 per cent more people last month compared to a year ago, as no-frill carrier IndiGo remained the market leader by cornering 28 per cent share.
The number of air travellers who flew in September was 58.22 lakh, an increase of close to 28 per cent over the 45.55 lakh passengers during the same period last year, latest figures issued by the Directorate General of Civil Aviation (DGCA) showed.
The increase in the number of passengers flown was primarily due to the on-going festive season, official sources said.
IndiGo remained the market leader having flown 19.07 lakh passengers during the month followed by SpiceJet at 10.82 lakh.
By flying 9.72 lakh passengers, Jet Airways took the number three spot ahead of Air India which carried 9.67 lakh. September broke a six month spell of Air India carrying more passengers than Jet Airways in the domestic market.
The airlines paid Rs 58.50 lakh as compensation and facilities to over 10,000 passengers affected by cancellation, while Rs 27.59 lakh was paid as compensation to 935 passengers who were denied boarding during September this year.
© Copyright 2023 PTI. All rights reserved. Republication or redistribution of PTI content, including by framing or similar means, is expressly prohibited without the prior written consent.