The summer placement season of 2009 had given an indication that students would have more job offers this year. The lateral placement (for experienced hands) season is only confirming the trend.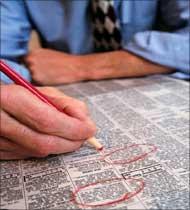 "Economic conditions have improved and there are signals of recovery from the industry. Companies are planning to hire more students this year. However, given that it is still early days in the placement season, we cannot provide concrete data on the number of offers. Besides the traditional sectors such as banking and financial services, consulting, IT and marketing, companies from many other sectors such as real estate, and the energy and supply chain have either already recruited or are planning to recruit from the Indian Institute of Management, Ahmedabad this year," says Vivek Jain, member, placement committee.
IIM-A has over 50 per cent of its batch eligible for the lateral placements this year. The premier management institute has also seen several first time recruiters on campus this year but was reluctant to disclose the names at this point.
At IIM Calcutta, around 160 students of a batch of 286, would participate in the lateral placements this year. These students have between 1-8 years work experience.
Praful Agnihotri, placements chairperson at IIM-C, says: "We are confident of placing all students this year. Last year lateral placements were under pressure but this year, several recruiters have already confirmed participation. Salaries offered, too, should rise."
Sources at IIM-C say close to 30 companies have already confirmed participation so far and talks are on with 5-10 more. Of these, Cognizant Business Consulting, Deloitte and Hinduja have already visited the campus.
At IIM Bangalore, too, lateral placement has begun and companies are loosening their purse strings to woo students. P D Jose, placements chairperson, says: "We have invited over 500 companies for placements this year. Of a total of 250 students up for placements this year, more than 100 students would be taking laterals."
Sources in the institute said IM-B has received confirmation from 25 companies already. These represent sectors like finance, IT, marketing and consulting and are said to include the Aditya Birla Group, Mahindra and Mahindra, Cognizant Business Consulting, PRTM, Accenture, YES Bank, Britannia and even Microsoft.
The scene is similar at other management institutes. At Management Development Institute, Gurgaon, for instance, lateral placements began on January 6 and concluded on January 14.
The companies came from a wide range of sectors - consulting, private equity, finance, general management, HR consulting, marketing and operations and saw participation by top regular recruiters like Cognizant Business consulting, IBM consulting, Mercer, YES Bank, GE, Aditya Birla Group, HCL Infosys, TCS.
This year, twice as many companies participated in the lateral placements (12 companies last year). Cognizant Business Consulting made a record 13 offers. The average salary offered to the lateral candidates last year was Rs 12-12.5 lakh (Rs 1.2 to 1.25 million).
Likewise, of the 120 students at Mumbai-based Jamnalal Bajaj Institute of Management Studies, there are a majority of students with work experience ranging from 1-5 years. However, the institute does not have a separate lateral placement process and combines it with the final placements, due in February.