Instead of announcing new schemes, focus will be on those already announced and key sectors.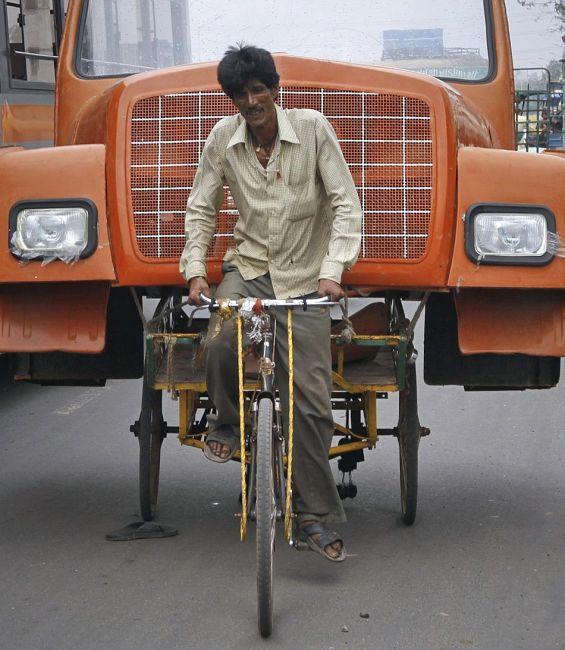 Image: Govt's focus would be on key areas such as banking, defence, retail, manufacturing, infrastructure and job creation. Photograph: Reuters
As the Prime Minister Narendra Modi-led National Democratic Alliance (NDA) government pads up to enter its third year in office, its focus would be on key areas such as banking, defence, retail, manufacturing, infrastructure and job creation.
If the first two years were about announcing signature schemes and campaigns, and setting the agenda for the NDA, the next three are going to be about getting results from the schemes such as Make in India, Swachh Bharat, Smart Cities or Digital India.
Consolidation of what has already been announced, rather than any new big-bang scheme, is expected to be the way forward, senior government officials told Business Standard.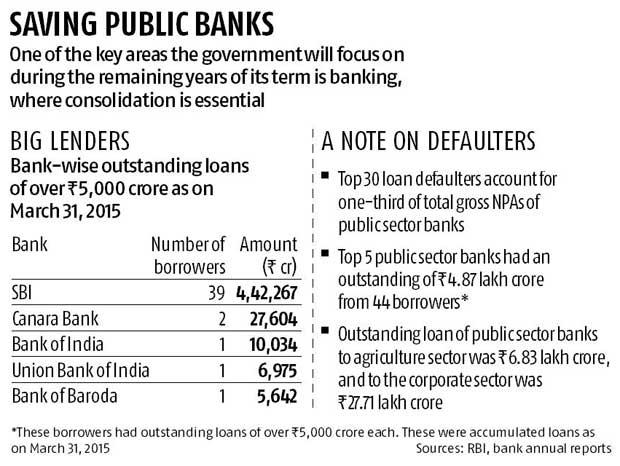 Boost for banking
Consolidation in the banking sector is high on the priority list of the government, because of the accumulating non-performing assets (NPAs).
Due diligence is in progress and the government is giving it a big push, said a source.
Banking has been a weak link in the first two years of the NDA rule and the sector must show results in the remaining three years.
The Union Budget for 2016-17 proposed Rs 25,000 crore towards recapitalisation of public sector banks to support their drive to recover dues and revive stalled projects.
Subsequently, Finance Minister Arun Jaitley said the government was willing to look at consolidation of subsidiaries with principal banks, as well as consolidation of weak banks with strong ones.
Direction to defence
In internal assessments by the government, defence is also a sector that must pick up speed.
The pace of defence acquisitions has been a cause of worry, an official pointed out. At the centre of concern is an estimated $10-billion (Rs 66,000 crore) deal to buy 36 French-built Rafale frontline combat aircraft — the agreement was signed but it is yet to be finalised over issues such as pricing and determination of life-cycle costs and liabilities.
Prime Minister Modi had visited Paris last year and had announced India's plans to buy the fighter jets directly from the French government.
Retail reform
Retail sector reform is likely to continue too, officials indicated.
The government could even drop its hard stand on foreign investment in multi-brand retail or supermarket chains such as Walmart and Tesco, though not immediately.
While the preceding United Progressive Alliance government in 2012 permitted 51 per cent foreign direct investment (FDI) in multi-brand retail, subject to approval by state governments concerned, the Bharatiya Janata Party (BJP)-led NDA has been opposed to it.
There are ideological differences on FDI in multi-brand retail over fears of job losses in neighbourhood stores, but the government is open to the idea of change.
As a test case, 100 per cent FDI was permitted in marketplace e-commerce a week ago.
Even as companies funded by marquee international investors have operated in the e-commerce sector for several years, there was no policy so far.
While the conditions that came with the e-commerce marketplace policy said platform owners (Amazon, Flipkart, Snapdeal and others) should not influence pricing of products directly or indirectly, a senior officer pointed out that pricing was driven by the market and the government was unlikely to dictate norms on discounting or deals offered in the online space.
Job generation
While job creation had been a focus area for the BJP even during 2014 Lok Sabha election campaign, major results are yet to be seen.
In fact, 134,000 jobs were created in eight labour-intensive industries during July to September 2015 according to the latest Labour Bureau survey.
It was the lowest compared to same quarters in the earlier years since 2009.
The government is keen to deliver its poll promise on job creation - BJP had said its goal was to create 250 million jobs in a decade.
Focus on infrastructure
Even as quicker environment ministry nods has reduced the number of blocked road and infrastructure projects, the government has to stay focused on the growth of projects, according to a senior civil servant.
In fact, this government's concern linked to the banking sector is also because of its thrust on infrastructure. "Banks' inability to finance big infrastructure projects is a worry," an official said.
Eye on manufacturing
Along with infrastructure, another area which will continue to remain in the limelight is manufacturing.
Modi government's Make in India has been a high-pitch campaign in the recent past, including an event in Mumbai where company heads gathered from across the world.
While some promises have been made and pacts signed, serious investment is yet to come into manufacturing.
The defence sector is crucial for Make in India as well, and that hasn't gained traction yet, according to an official.
"We need results in job creation, manufacturing and infrastructure to clock double-digit growth," an official said while summing up the mood of the NDA government as it readies to complete two years in office in May.