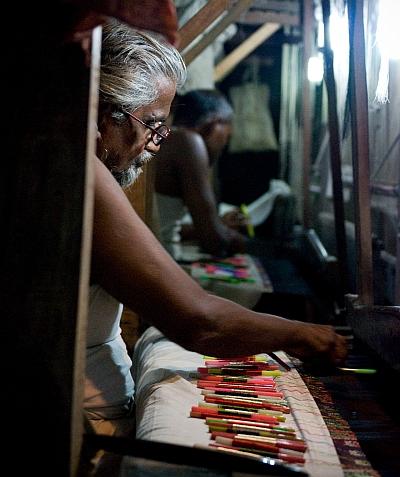 As India's top designers including Tarun Tahiliani, Vikram Phadnis, David Abraham, Rohit Bal, Rajesh Pratap Singh and Wendell Rodricks gather in Varanasi today to try and give a boost to the Benarasi handloom sari, in an initiative by designer turned BJP politician Shaina NC, Rashme Sehgal outlines the crisis facing the weavers.
Three years ago, thousands of weavers of Odisha sent a letter to the ministry of textiles questioning the move to repeal the Handloom Reservation Act which has, since 1985, been providing protection to traditional handloom weavers.
The signature campaign met with success because the move to repeal the act was deferred for some time. The letter, signed by several handloom weaver associations, categorically stated, 'We are the true custodians and practitioners of handloom -- please do not forget that this concerns 2.5 million Indian families who have thrived for generations on handloom weaving practices.'
The letter also stressed that the 'handloom sector was economically viable, ecologically sustainable and provided proud and dignified employment to more people in their own homes than all the power loom and mill sectors put together.'
Today, a cross-section of weavers from Varanasi have a different story to tell. Despite having grown up in families where the art of weaving has been passed from one generation to another, 90 per cent of handloom weavers claim they have switched to power loom as they find this to be the more economically viable option.
Shamim Ahmad, a weaver from Pillikothi in Varanasi who head the Hafiz Samiullah & Company, points out, "Eighty per cent of the weavers of Varanasi have already switched over to power loom ; they simply do not want to slog those long hours on weaving handloom products which are no longer remunerative for them."
Explaining the economics of this changeover, Ahmad said, "A handloom weaver can weave between eight and 10 centimetres of handloom in a day whereas with a power loom, he can produce over 60 centimetres a day. So, while the former will fetch him an average income of Rs 150 per day, the latter will see him earn Rs 500 per day. The problem is further compounded by the fact that on an average, in Varanasi, we do not get more than six hours of electricity in a day. So, there is a scramble to do as much work as is possible during that period."
The other key problem that has ignited this switchover is the high cost of inputs of silk yarn, zari and other traditional items. Handloom products are more expensive and customers are no longer willing to pay such high rates. Explained Ahmad, "If our input costs are Rs 500 per metre, Surat is using mixed yarn and rayon and producing the facsimile at Rs 150 per metre. Under these circumstances, how can we be expected to remain competitive?" he added.
"Most orders come at short notice. If I get an order to produce 100 metres of cloth, I can use power loom and produce this quantity within a period of 15 days, whereas with handloom, the same product will take three months to produce," he further stated.
Akhlaq-u-Ahmad, another prominent Varanasi weaver, believes government assistance to the handloom weavers seldom reaches the economically deprived. "Handloom societies are known to have received up to Rs 30-40 lakhs in the form of subsidies per society. The practice here is to palm off a couple of hundred rupees to the weaver and then take his signature to show he has received a much larger amount. Sometimes the money is shown spent on upgrading the skills of a weaver through the holding of workshops. This is ironical because the majority of weavers are experts in their trade and can teach their maaliks a trick or two."
"The one scheme that helped weavers immensely was the ICICI Lombard health insurance scheme in which they were reimbursed up to Rs 15,000 against medicines and hospitalisation. Unfortunately, this scheme has been withdrawn," said Akhlaq.
Sribhas Chandra Supakar, a Varanasi-based textile designer who has along with his father played a stellar role in reviving the Varanasi sari during the last five decades, believes other reasons need to be factored in to understand the demise of the handloom industry.
Supakar said, "A large number of power loom weavers have become so adept in their craft that most customers are not in a position to explain the difference between handloom and power loom. The result is that large quantities of power loom products are being passed off as handloom products. And since these products are priced cheaper, they have a huge market,' said Supakar.
"I know of several weaving establishments in Varanasi who are exporting power loom products but claim that these are handloom and no one seems to know the difference," Supakar pointed out.
Supakar believes it is important for the industry to keep pace with the changing technology. "Today, embroidery is getting automatised. Research is being done at Varanasi with which I too am associated. We hope to come up with an electronic jacquard and once that is ready, then the entire process of weaving will get further simplified," Supakar said.
Many of the larger weaver conglomerates are demanding an end to imported raw silk as this impacts the prices of local domestic market. The last five years have seen domestic production of raw silk rise about 30 per cent while imports have fallen by 38 per cent during the same period. India largely imports Chinese silk which has cornered 82 per cent of the global output.
The textile ministry is also in the process of developing silkworm seeds that can now produce silk for power looms which are currently using 15 per cent of silk yarn with handloom using the remaining 80 per cent.
Laila Tyabji, who heads Dastkar, has come out strongly against the removal of the Handloom Reservation Act because she believes this act has played a key role in protecting traditional handloom weaves, especially saris, from being copied by machines.
She pointed out that this act provided an important protection for handloom weavers at a time when `their yarn, their designs and their markets are under attack, and decried the fact that meetings of senior bureaucrats has been held with members of the power loom industry without the inclusion of the handloom-sector representatives at a time when sales of hand looms is on the rise across the globe.
The textile industry remains extremely volatile. On one hand, several thousand marginalised weavers in Varanasi have ended up eking a living as rickshaw-pullers. Lesser known is the fact that a large number of unemployed weavers have been driven to suicide.
Competition is also getting fiercer, with the Chinese increasingly trying hard to elbow out the Indians. They are known to have flown skilled Benarasi sari weavers to China so that they can mass produce Benarasi silk saris in their own country.
The elderly Mahender Kajiwala, a textile magnate of Varanasi, owner of over 250 power looms with a Rs 10-crore turnover, had told this reporter that he needed to invest in the latest technology in order to remain globally competitive. "But I am hesitant to make this switchover because for this I require uninterrupted power," said Kajiwala.
A weaker rupee is also hurting silk exports. The global economic downturn during the last eight years has also seen a slump in exports of Indian silk products with export earnings falling to Rs 2,303 crore in 2012-13 from Rs 3,178 crore in 2008-09. China has also succeeded in making a dent in Indian exports.
Most of the well-known weavers believe that change in the traditional handloom industry is inevitable. Supakar believes the traditional Benarasi silk industry was close to closure during the 'fifties because of the inability of weavers to keep up with the changing trends. The same situation should not be allowed to repeat itself at a time when Korean, Thai, Taiwanese and Chinese products are flooding the subcontinent.
"While Patola, the Benarasi sari, tie-and-dye will continue in their present ouvre, we must be prepared to accept some amount of transformation in our industry to ensure a decent livelihood for our weavers," Supakar added.
Image: Handloom weavers in Varanasi. Photograph: Dan Ruth/Wikimedia Commons.