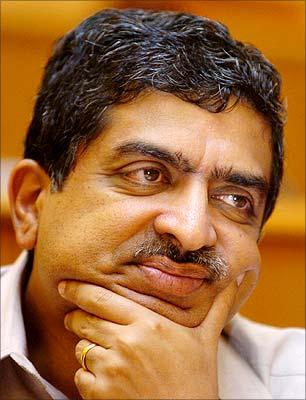 Infosys co-founder Nandan Nilekani has invested an undisclosed amount in city-based eye care chain Drishti.
The company is set to expand its reach to six more districts in Karnataka in the next phase of expansion, after infusion of fresh funds by Nilekani, Drishti said.
Without disclosing the amount invested by Nilekani, it said the investment will not only boost the capacity of Drishti but also provide much-needed eye care services to underserved areas of Karnataka.
"It is both an honour and privilege to partner Nilekani.
"This will help Drishti realise its goals to deliver quality eye care through eye hospitals, telemedicine supported vision centres and mobile eye clinics," Drishti Founder and chief executive officer Kiran Anandampillai said.
"Providing affordable healthcare leveraging technology is a very critical issue. I like Drishti's approach and believe that the co-founders -- Kiran and Anjali -- have their heart in the right place, and want to build a sustainable business with high impact," the statement quoted Nilekani as saying.
Drishti was started by IT professionals Kiran Anandampillai and Anjali Joshi.
Anandampillai is also one of the founding members of OnMobile.
Drishti currently operates in four districts of Karnataka -- Bengaluru Rural, Chikkaballapur, Ramanagar and Chitradurga.
It was seed funded by Lok Capital.