However, the company has claimed its vehicles are 'compliant' with the country's emission norms and that it will 'challenge' the tribunal's order.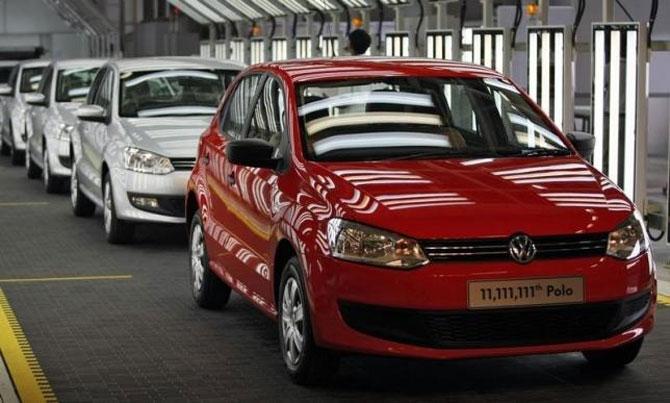 German car maker Volkswagen's India unit has been directed by the National Green Tribunal to deposit Rs 1 billion (Rs 100 crore) with the Central Pollution Control Board, for alleged use of a cheat device in diesel cars to flout emission norms.
A bench headed by NGT Chairperson Justice Adarsh Kumar Goel also formed a committee comprising officials of the ministry of environment and forests, ministry of heavy industries, CPCB, and Automotive Research Association of India, to calculate the actual quantum of environmental loss, according to a PTI report. The committee is expected to submit its report in a month.
The tribunal was hearing pleas filed by Saloni Ailawadi, a school teacher, and a few others seeking a ban on sale of VW cars for alleged violation of emission norms.
"The Volkswagen Group is compliant with emission norms defined in India. The group is yet to receive a copy of the order from the NGT. The group will review the order and subsequently challenge the same," said a spokesperson.
The group, which sells cars in India under multiple brands including VW, Skoda and Audi, had announced a recall of over 323,000 vehicles in December 2015 after a government investigation found that these vehicles did not meet the specified emission norms.
The group maintains the 2015 recall was 'voluntary'. The recall was announced after a test by ARAI found that the on-road emission of these cars was up to 2.6 times higher than the specified limit. This among the biggest recalls announced in the country.
Unlike most others, this one was highly publicised and talked about given the global angle. VW had admitted that about 11 million cars in different countries were fitted with an emission "defeat device" and has had to pay hefty compensation to owners.
In an interaction with Business Standard last month, Steffen Knapp, director, Volkswagen Passenger Cars India, said 19 per cent of the recalled vehicles were yet to come to workshops for the required service. Of these 323,700 vehicles, more than 61,000 have not been updated by the company to date.
"We did not have the contact details of the remaining 19 per cent customers. These cars may have been changed five-six times as used cars, some may have met with an accident," Knapp added.
Admitting that the global emission incident has had a bearing on the brand's perception in India, Knapp said: "A brand is a promise. There is something in your head... we are still carrying this baggage. We reassured customers this would never happen again."
The car maker's flagship brand, VW, has lost market share in recent years. It is now the tenth player by volume in India -- the world's fifth largest car market -- and sells just about 3,000 cars a month.
Image: Volkswagen Polo cars. Photograph: Reuters.