Fundraising via equity NFOs highest since 2008, with over Rs 11K cr collected in first eight months of 2017, says Chandan Kishore Kant.
Illustration: Dominic Xavier/Rediff.com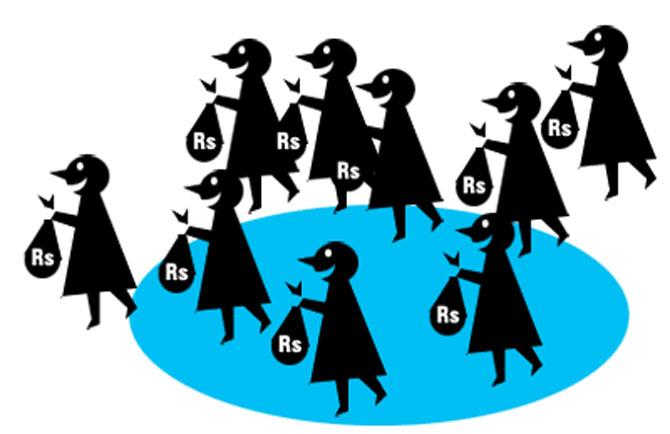 It is not only the Initial Public Offer (IPO) market that's bustling. New fund offerings (NFOs) launched by mutual fund houses have also seen a big boost this year.
A total of 37 equity NFOs collected Rs 11,961 crore in the first eight months of 2017. This is the highest mobilisation through new offers since 2008. Launches, at eight, had hit bottom in 2012.
With a revival in the secondary market and consistent inflow into MF schemes since early 2014, the activity here has seen a gradual pick-up.
This has come at a time when market participants had thought NFOs would be out of vogue and they'd have to focus on growing the existing offerings. The average NFO size this year has seen a considerable increase to Rs 323 crore, from Rs 115 crore last year.
Inflows through the route was 15 per cent of net equity inflow into the MF sector in 2017; for Jauary-August, equity schemes had total inflow of Rs 81,000 crore.
Sunil Subramaniam, chief executive at Sundaram Mutual Fund, says: "There are fund houses which do not have several products; they're coming up with products and launching them. However, I do not think it is right to say NFOs are back."
Officials in the segment do not want to be seen in support of new launches, given market regulator Sebi's push to merge schemes.
In 2014, fund houses offered as many as 75 equity NFOs to investors. However, despite such a large number of new launches, only Rs 12,219 crore was collected by the industry.
Swarup Mohanty, chief executive at Mirae Asset MF, says if the market remains strong, an increasing trend of new offers is possible.
"Though NFOs are the riskiest of products, there is still a section of investors who like the Rs 10 unit value," he adds.
Kaustubh Belapurkar, director of fund research at Morningstar India, says new launches do not seem to be drying.
"Apart from fulfilling of product baskets by fund houses, strong market sentiment might also be propelling fund players to come up with new funds, to garner a healthy sum," he says.