Commercial services may start in Mar-Apr next year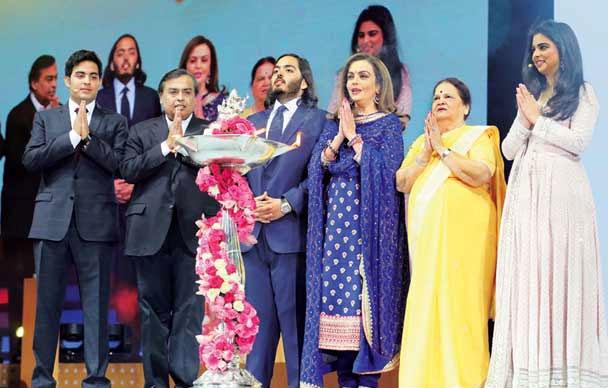 RIL Chairman & MD Mukesh Ambani (second from left) flanked by sons Akash (left) and Anant, at the launch of Reliance Jio 4G services in Mumbai on Sunday. (From right) Ambani's daughter Isha, mother Kokilaben and wife Nita.
Mukesh Ambani finally introduced his much-anticipated fourth-generation wireless broadband services - Reliance Jio - on Sunday, restricting it only for the company's employees for now. While a full-fledged commercial launch is expected around March-April next year, the mega scale of the soft launch set the stage for a battle with Bharti Airtel, Vodafone and Idea, for the spoils in India's $50-billion telecom industry. The incumbents have already rolled out their 4G services and stepped up investments in networks.
Jio is aiming to acquire 100 million customers in the first year of operations, or even earlier. The launch, which saw spirited performances by Jio's brand ambassador Shah Rukh Khan and ace musician A R Rahman, was also marked by next-generation Ambanis taking the lead in RIL's consumer businesses, to differentiate the old Reliance from the new one.
Ambani's daughter Isha and son Akash Ambani, who are expected to play pivotal roles in the new consumer-facing businesses of the group, took centre stage with their parents to share the company's vision for Jio and what it intends to achieve. Akash Ambani said, "The lighting of a diya suggests birth of a new life, a digital life."
Jio's launch also showcased Mukesh's partnership with his younger brother Anil, who occupied the front row with mother Kokilaben, wife Tina and sons Jai Anmol and Jai Anshul.
In his address, Mukesh Ambani, the chairman & managing director of RIL, appealed to the company's employees to validate and co-create a world-class experience for consumers. He said he wanted every Indian to adopt a new way of life that would enable them to do things in a simple and secure way.
Outlining his mega ambition of connecting 1.3 billion people through Jio's high-speed internet, Ambani said: "Jio is not about Reliance, it is about you; it is about inspiring people to join a movement." The service offering of Jio is quite clearly not just about mobility, either. Reliance Jio seeks to offer broadband networks, applications and fibre-to-home service that could offer 1 GBPS of speed throughout the home, with a simple plug-and-play device.
Ambani said: "Imagine the power that we will be putting in the hands of common Indians, if we give them a smartphone and an always-available, broadband connection to link them to the power of the internet. Jio digital life is an entire ecosystem that allows Indians to live the 'Digital Life' to the fullest."
This ecosystem consists of devices, broadband networks, powerful applications & services, and distribution to every doorstep in India, particularly in small towns and villages, both in the hand and home, according to Ambani. This ecosystem will come with 24x7 support.
The company showcased some of its applications, such as JioPlay, which seeks to redefine television viewing. Subscribers of Jio can watch live TV on the go and also go back to the archives to watch programmes of the previous week. JioFiber is a way to connect the home using high-speed internet, with speed of 1 GBPS - it may sound too futuristic but that is what Jio says it plans to offer.
The fibre to home will be a plug-and-play service that will allow video conferencing through the television, accessing a host of applications through multiple devices and television viewing on demand with voice commands.