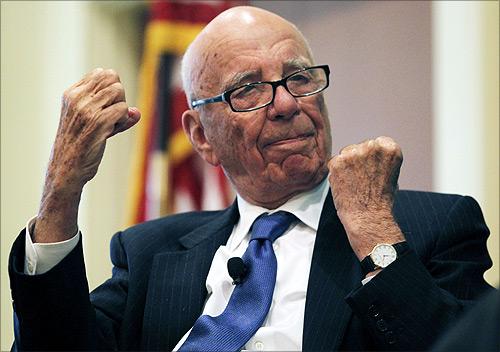 Rupert Murdoch-led News Corp has acquired 25 per cent stake in real estate portal PropTiger.com, a leading digital real estate marketing platform in India for $30 million.
The acquisition, News Corp said, was aimed at accelerating its global digital footprint with an emphasis on India, where the company also has a presence through Dow Jones, Wall Street Journal and HarperCollins Publishers businesses.
"The PropTiger investment is consistent with News Corp's digital growth plans globally, and is based on our experience in combining great content, information and transaction capabilities to create value in a compelling user-experience," Raju Narisetti, senior vice president, Strategy at News Corp, told Rediff.com.
News Corp has invested in Elara Technologies Pte Ltd (Elara), which owns PropTiger.com.

PropTiger.com was founded in 2011 by Dhruv Agarwala, Kartik Varma and Prashan Agarwal. Among its other investors are Accel Partners, SAIF Partners and Horizen Ventures.
As part of the investment, Raju Narisetti will also join Elara's Singapore-based board.
"India is in the early phases of a long-term digital transformation and we wanted to partner with Indian entrepreneurs who have a proven track record in building a real, durable real estate business and not just brand hype," Narisetti said.
The investment creates a network effect to complement and build on the strength of the company's businesses, which include news, book publishing and digital real estate.
News Corp recently agreed to buy US property portal Move, Inc (Move), operator of realtor.com. Move has the most up-to-date and accurate for-sale listings of any digital real estate company in America.
PropTiger.com, the company said, will benefit from News Corp's digital and product expertise, drawing on its experience with digital media company REA and Move.
Robert Thomson, chief executive of News Corp said in a statement that India has more than 270 million Internet users and the number is growing exponentially.
"There is no doubt that the development of digital is empowering individuals and transforming industries and we are extremely enthusiastic about the potential for PropTiger.com as the country fulfills its digital destiny," he said.
PropTiger.com will provide analysis, information and insight so that Indians will be better informed when they make the most significant investment decision any family will make, buying a home.
"We believe the site will be the most important platform for developers seeking to market new properties and the most trusted and reliable source for purchasers, many of whom will be buying for the first time," he said.
At least 10,000 properties, with a combined value of over $1 billion, have already been bought by Indian homebuyers through PropTiger.com. It is estimated that India will be a $158 billion residential real estate market by 2020.
Dhruv Agarwala said that News Corp and PropTiger.com have a shared vision to use technology, high quality data and rich content to bring transparency and simplicity to the home buying experience and to help consumers make well informed decisions.
"Make in India is also about entrepreneurs building long-term platforms for success and we believe PropTiger.com is one such Made in India opportunity," Narisetti said.