Mumbai Police Commissioner Satyapal Singh on Monday said the 1.30 AM deadline for closure of eateries and restaurants on New Year eve would be strictly enforced.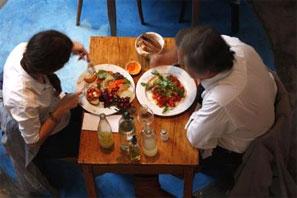 "My views are very clear in the matter. For women's safety and to prevent drunken driving among others, I took this decision," Singh said when asked if he is likely to reverse his decision on the 1.30 AM deadline.
The city police seem determined to stick to its decision and is likely to respond accordingly on Tuesday in the Bombay high court where the Indian Hotels and Restaurant Association (AHAR) approached earlier today challenging the police's deadline.
After Singh issued the directive, the Police Commissioners of Thane and Navi Mumbai followed suit citing concerns of 'serious crimes' and 'law and order disruptions'.
According to the petition by the AHAR, the Maharashtra Home department and Excise department had in circulars dated December 19 and December 24, respectively, granted permission to hotels and restaurants to remain open till 5 AM. The circular, however, said each hotel owner should get permission from the police commissioner.
The petition also mentioned that the hotels and restaurants have already spent a huge amount, arranged parties and sold tickets. The matter was mentioned before the vacation bench of the high court which has posted it for hearing on Tuesday.
Another police official said there was no restriction on the crowd on the streets while loudspeakers and music in open spaces would be prohibited after midnight.
In case of the 1.30 AM deadline violation, the offenders would be fined or the licence to operate eateries and establishment confiscated, the official added.
Last year, the Mumbai Police chief had opposed the state government's plans to relax the 1.30 AM deadline for hotels.