Currently, most crowdfunding platforms neither operate with proper authorisation nor are governed under any law.
Illustration: Uttam Ghosh/Rediff.com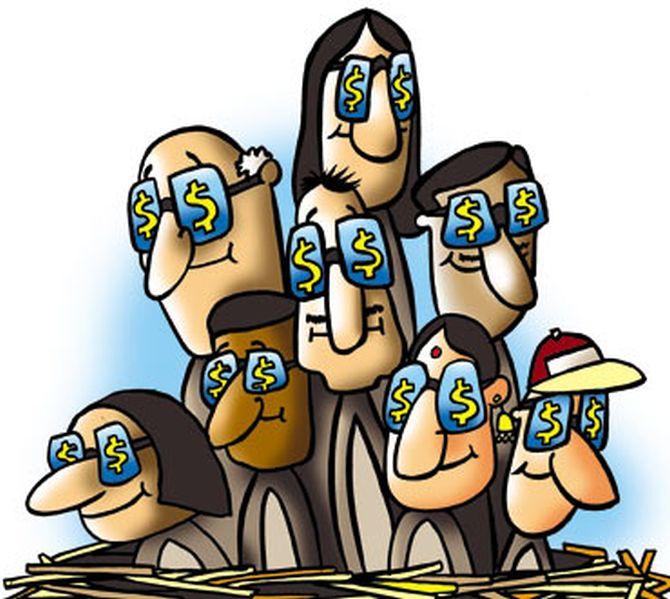 With alternative capital-raising facilitators like crowdfunding gaining popularity, the Centre is mulling setting up a new regulator or authority to regulate them.
Currently, most crowdfunding platforms neither operate with proper authorisation nor are governed under any law.
Following a finance ministry meeting with the Securities and Exchange Board of India (Sebi) and the Ministry of Corporate Affairs (MCA) last month, the Department of Economic Affairs (DEA) is considering a flexible regulatory regime to recognise crowdfunding platforms as a "marketplace".
The ministry has also proposed an option of a separate regulator other than Sebi and the Reserve Bank of India for governing these entities.
At present, Sebi regulates fundraising for securities through both equity and debt for listed companies.
Private placements by unlisted firms are regulated by the MCA. However, none of these covers crowdfunding of donations, rewards and charity.
The DEA, in a note circulated to all regulators concerned, has said it would be beneficial to examine development of a marketplace model in greater detail.
According to it, a new framework shall enable small firms to raise capital from individuals or entities that have investible surplus funds.
According to the DEA, fundraising activity need not be restricted to "securities" according to the Securities Contracts (Regulation) Act and thus could also be in the form of loans, grants, and simple contractual payments.
Further, it suggested having a new mechanism, separate from the stock exchange system, which would be considered a "public offer" as understood in the Companies Act, but give greater flexibility in funding options.
"For facilitating this, perhaps a new law may be required," the DEA has noted.
The DEA also outlined some of the options for the regulatory authority for these fundraising tools.
A new regulator called the Authority for Alternate Markets can be created by an executive order of the government by passing a Bill in Parliament by carving out the required exemptions from the existing Acts.
Another option could be to create an Alternate Markets Commission/Crowdfunding Commission, which is empowered with powers to decide the policy as well as administration of that policy independently.
The DEA further explained the rationale behind regulating these platforms.
Considering the experience of scams like those involving the National Spot Exchange and various collective investment schemes, it is felt that a regulatory vacuum in financial matters may not be a good idea.
Bringing in clarity and definite rules grants these activities the legitimacy and the scope for scaling up, aiding capital formation, and economic growth, it said. Business Standard has reviewed the note.
Sources said the concept had been discussed extensively with all regulators, including Sebi. However, Sebi expressed its reservations about regulating crowdfunding, citing jurisdiction issues, said a person privy to the development.
Though, in 2014, it had floated a discussion paper and proposed a framework to enable domestic start-ups and small and medium enterprises to raise capital from multiple investors through crowdfunding.
It had defined crowdfunding as "solicitation of funds (small amount) from multiple investors through a web-based platform or social networking site for a specific project, business venture, or social cause".
However, it had scrapped the idea, citing ambiguity and lack of clarity on cross-border investments.
Grex, Kickstarter, Indiegogo, Ketto, LetsVenture, Milaap, Wishberry, Fueladream, BitGiving, Catapooolt, DreamWallets, Start51 and Fundlines are among the active crowdfunding platforms in the country catering to various kinds of projects.
The exact amount mobilised by these players is not known. However, these platforms claim to have empanelled hundreds of investors and start-ups.