As inflation rate is near the upper limit of the comfort zone, experts rule out rate cuts anytime soon
With inflation beginning to move up, the chances of the governor-designate of the Reserve Bank of India (RBI), Urjit Patel, continuing to ease rates are low. While India Inc is hopeful of a rate cut in October, analysts and economists say keeping inflation under check would be the new RBI governor's priority.
Patel is also known for his hawkish approach. So, it is not surprising that economists at Standard Chartered believe that expectations of a significant policy easing are likely to fade.
However, things are not as bad as it was when Raghuram Rajan took charge from Duvvuri Subbarao. Due to the currency crisis that unfolded around May 2013, there was an immediate need to increase interest rates and stem the rupee's free-fall.
Among his first tasks upon assuming office, Rajan was quick to hike policy rates, reversing the rate cuts undertaken by Subbarao between early 2012 and mid-2013.
Rajan hiked the repo rate (at which RBI lends to banks) from 7.25 per cent (at the start of September 2013) to eight per cent (in January 2014) in a matter of about four months.
This, along with other measures, provided macro stability to India. With inflation coming under control and the currency becoming stable, Rajan was able to cut repo rates from the eight per cent-levels in 2015 to 6.5 per cent currently.
Since Patel has been with RBI since January 2013, with most of this tenure under Governor Rajan and had been instrumental in targeting inflation, there is a sense of relief in the market.
New RBI governor is not in a hurry to slash rates "The market is likely to take comfort in likely policy continuity on major issues, including inflation targeting," the Standard Chartered economists add. Majority experts share this view.
Dhananjay Sinha, head (institutional research) at Emkay Global Financial Services feels the continuity of inflation focus will remain under the new leadership, especially because Rajan leaves after establishing the monetary policy committee.

Shweta Daptardar of KRC Research also has the same opinion. "Strategies once put in place cannot be changed drastically, especially when it is battling inflation."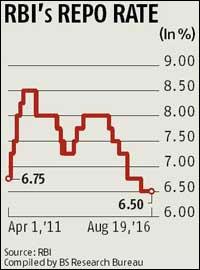 RBI has guided for a retail inflation target of four per cent, plus or minus two per cent. Given the upside risk to inflation, experts thus believe Patel is unlikely to cut rates soon.
Sinha adds: "The risk to inflation is on the higher side due to significant rebound (25 per cent year-on-year) in government consumption spending. As it is, the CPI (consumer price index) inflation at 6.1 per cent and WPI (wholesale price index) inflation at 3.5 per cent have already attained our targets of 6.0-6.5 per cent and 3.5 per cent, respectively."
Analysts say inflation indicators are on a tight zone. This, according to economists at Standard Chartered, might also result in a negative near-term impact on the currency market. The bond market reaction, too, might not be too different.
Analysts at PhillipCapital say CPI is expected to tread above the RBI-guided inflationary trajectory, rate cuts are not expected, and consequently, bond yields should react negatively on Monday.
Analysts say that as the market was factoring in for a rate cut in October, there could be some immediate pressure if the likelihood of the rate cut was further postponed.
Interest rates aside, analysts also say continuity of policy stance means that efforts taken by Raghuram Rajan to clean up the books of banks will also be maintained, which is good for the banking system in Daptardar's opinion.
Photograph: Danish Siddiqui/Reuters