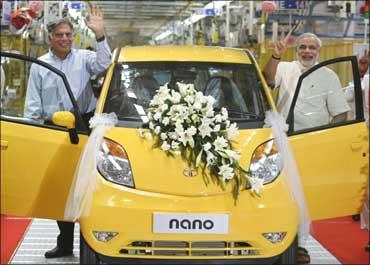 Corporate India tempered its victory celebrations for the supposedly business-friendly Narendra Modi-led National Democratic Alliance's landslide electoral victory by highlighting the need for immediate steps to create jobs through inclusive economic growth.
With demands for steps to improve business and consumer sentiments, re-start stalled projects, reduce interest rates and ease the environment for doing business, industry heads said the new government should focus attention on implementation of its promises.
While saying expectation management, given the sweeping electoral mandate, would be a key challenge, Confederation of Indian Industry president Ajay S Shriram spoke of the need for job creation, with inclusive growth.
Sunil Bharti Mittal, chairman, Bharti Group, said the decisive mandate empowered the new government to undertake some bold reforms to inject fresh momentum into the economy. "The long-term India growth story is intact, and the need of the hour is to bring back business confidence and revive the investment cycle through swift and decisive policy making, with focus on jobs-led inclusive growth," said Mittal.
Corporate heads also underlined that accelerated economic growth had to be coupled with speedier decision-making by the government and with more focus on governance. "The nation now awaits an era of minimum government and maximum governance," said Sidharth Birla, president, Federation of Indian Chambers of Commerce and Industry.
"Our immediate focus is on implementation," said Chandrajit Banerjee, director-general, Confederation of Indian Industry, on their agenda for the government. "We need to see projects that have been cleared get implemented."
That would need careful selection of people who would take care of the last-mile delivery, says Naresh Trehan, chairman, Medanta - The Medicity.
"Get the right ministers and that itself will give the message," noted Jagdish Khattar, chairman, Carnation Auto India. The governance part could be taken care of by ensuring regulators are properly selected, he added. Many corporate honchos stressed on the need for a bureaucracy that takes quick decisions.
Most corporate heads expect the new government to lay out its road map for economic development in the year's Budget.

"Given the landslide mandate, there will not be any pressure on the government to take populist decisions in the Budget. We hope they take more fundamental decisions that are important for the country over the next five years," said the head of an industry body.
Many feel the immediate concerns needing government attention include those relating to land acquisition laws, implementation of the new companies law, time bound roll-out of a goods and services tax and the Direct Taxes Code. While most agreed that subsidies were required for supporting certain sections of society, these have to be better targeted, cutting on wastage, they said.