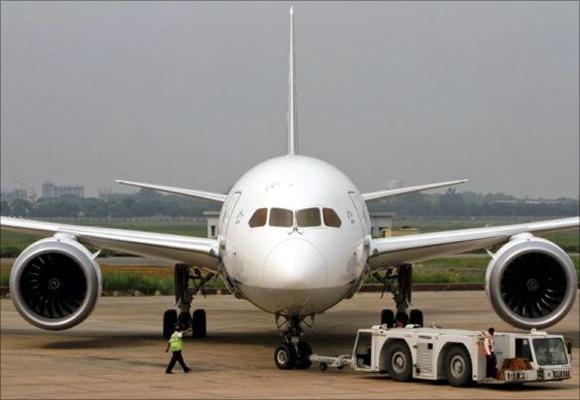 The civil aviation ministry is likely to abolish the '5/20 rule' that restricts companies from flying abroad unless they have flown in India for five years and have a fleet size of 20 aircraft, according to sources.
"The 5/20 rule in its present form will not exist for sure," said a senior official, with the civil aviation ministry, adding: "To ensure that the older airlines do not complain, some form of restrictions will be there."
According to him, the ministry is considering as many as 15 options to replace the controversial rule.
Any relaxation in the 5/20 rule will benefit Vistara and AirAsia India.
The policy is in its final stage and the draft Union Cabinet note has already been prepared. The ministry is likely to send the draft note for the Cabinet's nod this week.
This will allow the Cabinet to clear it by this month.
"All the contentious issues over the policy have been ironed out and now there is a consensus over it.
We'll send the policy for the Cabinet's nod by this week," said civil aviation secretary Rajiv Nayan Choubey.
The new policy has been delayed because of various issues.
The 5/20 rule and auctioning of bilateral rights had divided the industry with incumbent airlines IndiGo, Jet Airways, SpiceJet, and GoAir threatening to move court on the matter.
The incumbents say the policy will give unfavourable advantage to newer airlines such as Vistara and AirAsia.
But, according to Choubey, once the policy is implemented, it will face no complaints as a level-playing field is ensured. Junior aviation minister Mahesh Sharma had earlier told Business Standard that the government was mulling to partially abolish the 5/20 rule with options such as 0/10, 2/10 etc to replace it.
The senior official cited above also said the civil aviation ministry, in its internal meetings, has given a go-ahead to the proposed regional connectivity scheme despite complaints from older airlines.
The draft policy had proposed a two per cent cess on all domestic and international tickets.
The ministry wanted to levy this on all those flying to metros, big cities and abroad to raise viability gap funding to cross-subsidise regional flights by capping their fares at Rs 2,500 per hour of flying.
VGF means a grant to support infrastructure projects that are economically justified but fall short of financial viability.
This was severely opposed by the airlines saying this would push ticket prices higher and make the whole intention of making flying affordable, futile. When asked about it, Choubey said, "We have decided on the source of the VGF."
LEG-UP FOR NEW CARRIERS?
Ministry to send Cabinet note on draft policy by this week
5/20 rule will not continue in its present form
The ministry is likely to remove any cap on number of years before it can fly abroad
The ministry has also cleared the regional connectivity scheme despite complaints from older airlines
The image is used for representational purpose only. Photograph: Mansi Thapliyal/Reuters