The emergence of new banking players with the approval for new banking licences on Wednesday has spurred a "once in a lifetime" sort of opportunity for information technology (IT) companies.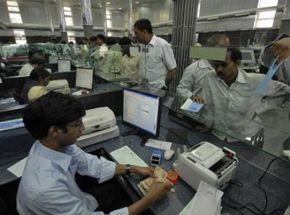 The opportunity for technology companies is not just limited to the quantum of the IT outsourcing business, service providers are also expecting to get a chance to bring in best-in-class technologies to convert the new licensees as "digital banks" of the future, from inception.

"The technologies used by the financial services company have seen massive changes in last few years. Since the new banks do not have any legacy platform or software, it gives the service providers like us an opportunity to create digital banks of the future," said a senior official of a global IT and consulting company, wishing not to be named.

Even as it is difficult to asses the size and shape of the new banks at this point, a rough calculation by experts shows that the opportunities for technology companies could be anywhere between Rs 100-600 crore ( Rs 1-6 billion) a bank.
The essential minimum technology requirements for any bank today includes hardware, core banking solution (CBS), data warehousing, and applications for business functions like finance, HR and enterprise resource planning.
For competing with the existing institutions, these banks would also require other tools for services such as customer relationship management (CRM), internet banking and phone banking, among others.

According to analysts and industry insiders, setting up a no-frills IT infrastructure from scratch could cost around Rs 100-200 crore, but to have competitive infrastructure capabilities these banks would need to spend anything between Rs 350 crore (Rs 3.50 billion) and Rs 600 crore (Rs 6 billion) on technology. Additionally, there would be recurring business from maintaining the infrastructure and back-office support on an annual basis.

"The basic thing one may need is to have a CBS, which costs anywhere between Rs 100-150 crore ( Rs 1-1.5 billion). Then, you have data warehousing, CRM and many other applications which they would eventually require," said a former managing director of a nationalised bank. "So my estimate is Rs 250-300 crore (Rs 2.5-3 billion) can be a reasonable amount to start with, while the cost can go up as they go forward. It depends on what kind of applications you are buying," he added.

While banking has always been one of the largest industry sectors for most IT players, experts believe the two new banks will offer "massive" business opportunities. Among others, experts name TCS, Infosys, Wipro, HCL Technologies, IBM, Accenture and HP as those that would be in the race for getting business from the new banks.

"This represents a very large opportunity, not just in terms of selling the software but even in terms of integration opportunities like putting the applications together and making sure that the infrastructure exists," said Siddharth Pai, partner and president of ISG Asia Pacific.

There are several options for CBS currently available in India including Finacle from Infosys, BaNCS from TCS and Flexcube from Oracle. Pricing for these solutions are mostly linked to the number of branches or transactions.
On top of the CBS, banks can opt for a number of other applications for smooth functioning of other operations like treasury and cash management, management of distribution channels and for financial inclusion. Bankers, however, are of the view that the new banks may start only with a few of these applications.

"The IT infrastructure of a bank is completely different from that of a NBFC. Banks need different kind of plumbing because of complicated product architecture and diversified portfolio. The IT infrastructure also depends on the business model.
I expect Bandhan and IDFC to have different business models - Bandhan will probably focus more on retail while IDFC will leverage their expertise in corporate finance. So they need sizeable investments to create an efficient IT infrastructure," said a senior banker with a private sector lender.

Some experts and bankers said that in line with model adopted by the recently launched Bharatiya Mahila Bank, these new banks may look to outsource heavily and depend on consultants as system integrators to manage their IT infrastructure efficiently.
This, they says, is a preferred option these days, as it reduces complexities relating to technology allowing bankers to focus on their core job.

Additionally, IT vendors stand to benefit on an ongoing basis from these new banks, as a tier-I banks spends 3.5-4.5 per cent of its revenue on technology, said Arup Roy, research director at Gartner.

"Time-to-market is a big factor today, and thus it is very important to use technologies like cloud to get support on that front," Roy said, "RBI has also mandated banks to have branches in rural areas, which will also lead to increased dependence on technology.
Given the fact that these are going to be new entities, their annual spending on IT would be heavy and could be around 3-4 per cent of their revenues."