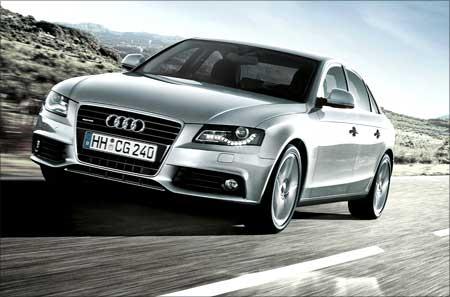 German luxury carmaker Audi on Tuesday said it has added three new variants of its premium sedan A4 in the Indian market, priced between Rs 26.67 lakh and Rs 36.40 lakh (ex-showroom Mumbai).
"With the introduction of three new engines, we are able to offer the widest choice in the luxury car market to our customers in India. It is our constant endeavour to provide our customers with world class products and state-of-the-art technology," Audi India managing director Benoit Tiers said in a statement.
The three new variants include both diesel and petrol engines. The diesel version would come with a 3.0 litre engine, while the petrol model would be with 2.0 litre and 1.8 litre engines, the company said.
"These engines also have a significantly greater fuel efficiency, consuming 10 percent less fuel than their predecessors," it added.
The company already has two versions of the A4 -- 3.2 FSI quattro (Rs 35.43 lakh) and 2.0 TDI (Rs 28.54 lakh).
Photograph, courtesy: Audi
Text: PTI