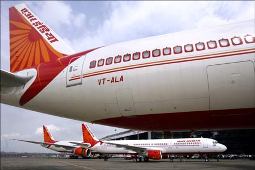 Ravindra Dholakia of the Indian Institute of Management-Ahmedabad, selected as an independent director on the Air India board, wants the airline to improve fleet utilisation and network planning and has asked its employees to change their mindset and work culture.

Dholakia joins the board along with Gurcharan Das, former chief executive officer of Procter & Gamble; Prem Vrat, vice-chancellor of ITM University of Gurgaon; Air Marshal K K Nohwar; and Renuka Ramnath, managing Director and CEO of private equity firm Multiples Alternate Asset Management.

Dholakia was earlier part of the Dharmadhikari committee which looked into integration and human rescources-related issues in Air India and also the committee on cost saving and resource optimisation.

"Air India is facing a threat for survival.

The owner (government) is reluctant
to support it beyond a point. Now, it's imperative for the employees to change their outlook, work culture and processes," Dholakia said.
He wants the airline to improve its network and fleet utilisation and start more point-to-point services, rather than one-stop or two-stop flights.
"Some of the sectors are not even recovering variable costs.
"It's only adding to losses. Point-to-point services are logical.
"This is what the competition is also doing and Air India cannot afford to ignore it," he said. Air India will also have to focus on improving its on-time performance to retain and improve its market share, Dholakia added.
He said the independent directors would act as a pressure group on the board.
A government press release said civil aviation minister Ajit Singh decided to appoint them as part-time directors to enable the state-run carrier to acheive targets set in the turnaround plan.