The airline business has eaten up capital over the past century like almost no other business.
One of the most predictable businesses in the world is aviation. It usually loses money! Warren Buffett once explained, "If a capitalist had been present at Kittyhawk back in the early 1900s, he should have shot Orville Wright. Seriously, the airline business has eaten up capital over the past century like almost no other business. You've got huge fixed costs, you've got strong labour unions and you've got commodity pricing. That is not a great recipe for success. In short, investing in airlines is nuts."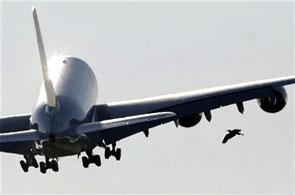 In addition to the generic problems Buffett identified, Indian aviation has more issues to contend with. One is the high cost of kerosene (aviation turbine fuel or ATF). Apart from central taxes, states also impose taxes, pushing ATF prices up. A second issue is poor airport infrastructure, which means a lot of fuel wasted circling in holding patterns. The fuel costs of India's airlines average out at near 40 per cent of operating costs.
A third issue is that the state-supported airline, Air India, doesn't need to make profits and it frequently sells tickets at unviable rates, thus forcing prices down. In addition, large taxes make air travel less attractive for the customer. As a result, almost every airline in India is overloaded with debt and loses money.
Despite this, aviation attracts a lot of interest. India is a fast-growing market and it should eventually become one of the two or three largest markets in the world. Unfortunately, a rise in passenger traffic doesn't guarantee higher profits.
Other segments of aviation could turn profitable. Airports can make money in many ways -- by exploiting possibilities in the retail and hospitality trades and by turning themselves into business centres. Plus, India is ideally located for becoming a maintenance, repair and overhaul hub since it falls on the major routes connecting Asia, Africa and Europe. There are also possibilities of growing the air-cargo segment. Unfortunately, barring the cargo segment, most of this won't translate into extra revenues for airlines.
However, the shares of various listed airlines are heavily traded. On balance, the returns have been very negative for investors. There is no reason to imagine that things will improve a great deal. The cost of fuel won't reduce dramatically and most airport projects are stalled or behind schedule. Air India will always be bailed out.
But every time there is some hope of a turnaround in some airline, the stocks rebound sharply. Newsflow such as the entry of a new investor, for example, or a debt restructuring scheme, presents trading opportunities. But this is always a speculative short-term game. Never ever buy airline stocks for the long term.
The author is a technical and equity analyst