This is the worst performance since the September 2008 financial crisis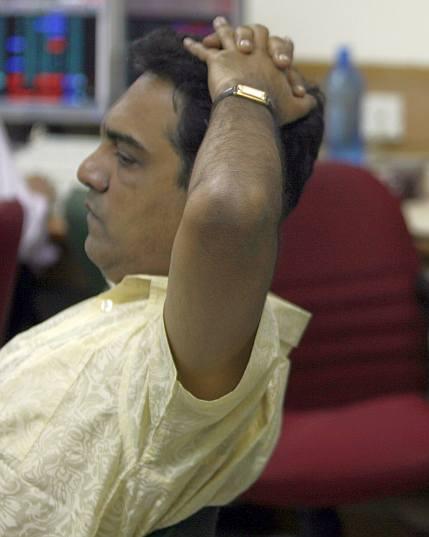 For India's leading companies, the quarter ended March has been a washout.
The combined net profit of the 43 companies in the benchmark National Stock Exchange Nifty index that have declared their results so far has halved during the quarter compared to the corresponding period a year earlier.
The Nifty index comprises 50 companies.
This makes it the worst quarter for Nifty companies since the September 2008 Lehman collapse, when there was a sudden drop in revenues and profits of commodity producers, automobile makers and banks, as credit markets were squeezed.
In the March 2015 quarter, the combined (reported) net profit of the 43 companies fell 51.6 per cent to Rs 33,854.30 crore (Rs 338.54 billion) from Rs 68,979.4 crore (Rs 689.79 billion) in the year-ago quarter.
India Inc's performance in the quarter ended March was hit by tepid growth in demand, both in India and abroad, a fall in metal and energy prices, adverse exchange rate movement and large write-downs in the value of assets (in case of Vedanta and Tata Steel) due to global commodity headwinds.
As many as 23 Nifty companies reported an annual decline in net profit.
Their poor performance more than offset a better-than-expected show by a handful, reducing the aggregate profit.
These companies accounted for 38.3 per cent of the combined market capitalisation of all the 43 Nifty companies at the end of trading on Thursday.
Excluding the impact of exceptional gains and losses, the combined net profit of the 43 companies was down 13.6 per cent on a year-on-year basis, while operating profit was lower by 14.8 per cent, indicating the operational headwinds faced by India Inc.
Analysts, however, see a silver lining. "The absolute figures look bad and are worse than market consensus estimates but I believe we have reached the bottom.
"Corporate earnings can only improve from here, as so many factors cannot go wrong again," says G Chokkalingam, founder and chief executive of Equinomics Research & Advisory.
Topping the list is Vedanta (formerly Sesa Sterlite), which reported the biggest-ever quarterly net loss by a Nifty company at Rs 19,228 crore (Rs 192.28 billion) in the March quarter, thanks to a Rs 20,000-crore (Rs 200-billion) decline in the value of its investment in Cairn India. The company had reported a net profit of Rs 1,774 crore (Rs 17.74 billion) for the corresponding period a year ago.
Even after excluding the write-down, Vedanta's net profit was 90 per cent lower on a year-on-year basis in the March 2015 quarter.
Tata Steel followed, reporting a net loss of Rs 5,674 crore (Rs 56.74 billion) for the quarter, owing to a write-down in the value of two mining assets and poor demand and pricing environment in Europe, its biggest market.
Cairn India also reported disappointing results during the quarter, as a global meltdown in crude oil prices halved its revenues.
The company reported its first quarterly loss since it began producing crude oil from its Rajasthan fields.
The company, which reported a net profit of Rs 3,035.4 crore (Rs 30.35 billion) in the March 2014 quarter, was among India's top 10 profitable firms in 2013-14.
Tata Motors was another spoiler, with a 56.2 per cent annual decline in net profit in the March 2015 quarter.
Its earnings were hit by adverse currency movement, especially of the euro, and the pricing pressure felt on its Jaguar Land Rover unit in China, one of its biggest markets.
Government-owned lenders Bank of Baroda and Punjab National Bank recorded annual declines of 48.3 per cent and 62 per cent in net profit, respectively, owing to higher provisioning for bad assets.
Private sector lenders such as Axis Bank, Kotak Mahindra Bank, YES Bank and IndusInd Bank, however, cheered investors, with strong earnings growth and better-than-most estimates.
The case was similar for consumer goods maker Hindustan Unilever and automobile maker Maruti Suzuki, which gained handsomely from favourable movement of the value of yen.
Unsurprisingly, many analysts are advising investors to focus on individual companies.
"I see it as a company-specific issue.
"In the same sector, some companies have done exceedingly well, while others are struggling due to company-specific factors," says Devang Mehta, senior vice-president and head (sales equity) at Anand Rathi Financial Services.
Image: A stock trader reacts; Photograph: Arko Datta/Reuters