The National Council of Applied Economic Research (NCAER) on Saturday pegged the government's fiscal deficit for this financial year at 5.1 per cent of gross domestic product (GDP), against the finance ministry's estimate of 4.8 per cent. On economic growth, the think-tank took a mid-path, estimating GDP to grow 4.8-5.3 per cent in 2013-14.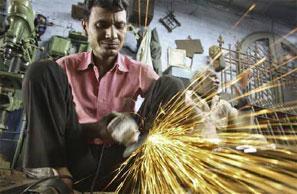 It is being debated whether growth in the economy will exceed five per cent this financial year. While the ministry is exuding confidence this will be the case, most independent analysts remain sceptical.

In its mid-year review of the economy for 2013-14, NCAER said, "Indications are with growth likely to be significantly lower than projected in the Budget, it may be difficult to achieve the budgeted tax-GDP ratio of 10.9 per cent, even with the budgeted tax buoyancy of 1.4 per cent during 2013-14."

For the first half of this financial year, the government's fiscal deficit already touched 76 per cent of the Budget estimate. NCAER's review said during the April-September period this year, cumulative fiscal deficit stood at 3.7
per cent of GDP.
It added a shortfall in tax revenues, increasing subsidy burden, difficulty in achieving the divestment target, a rise in the food subsidy burden and pre-election sops were some of the factors likely to hamper the recovery of economy this financial year. Budget 2013-14 had estimated economic growth at 6.4 per cent. In nominal terms, it was pegged at 13.4 per cent. In real terms, growth in the first quarter of 2013-14 stood at a four-year low of 4.4 per cent.
Now, it seems the question is whether or not the economy will grow more than last year's five per cent.
NCAER said growth in the agriculture sector was expected to be buoyant, owing to a favourable monsoon. However, it was sceptical on industrial recovery, as well as high growth in the services sector.
The report pegged average Wholesale Price Index-based inflation for this financial year at 6.8 per cent. The fact that inflation averaged 5.83 per cent in the first seven months of this financial year indicated the council expected inflation to rise in the coming months. In October, inflation rose to an eight-month high of seven per cent from 6.46 per cent in September.