Essar's business of transporting iron ore from Chhattisgarh has been cut to about half its capacity, with Naxal activities casting a shadow on these operations.

About two years after Naxalites blew up the company's pipeline in Odisha, it could not be repaired, owing to threats from the rebels. Through the 267-km pipeline, the company supplied high-grade iron ore from its eight-million-tonne-per-annum (mtpa) benefication plant in Dantewada district to its pellet plant in Visakhapatnam. From the Visakhapatnam port, the raw material was shipped to Hazira in Gujarat, where the company had a steel facility.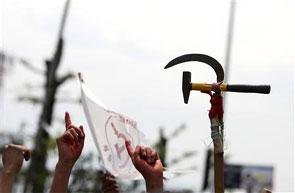 According to industry sources, now, Essar Steel is sending just three mtpa of the iron ore it procures from National Mineral Development Corporation (NMDC). "It has not only reduced the quantity, but also enhanced costs, as the raw material is now transported by rail," said a source.

Essar officials couldn't be contacted for an estimate of the loss from Naxal activities.

After Naxal threatened they would not allow the company to open the proposed 3.2-mtpa steel plant in Dantewada, the district administration could not conduct a public hearing for land acquisition, despite the company signing an agreement with the state government in 2005.

Naxal
activities have also hit the operations of Tata Steel. The company had planned a five mtpa steel plant in the Lohandiguda region of Bastar and had signed an agreement with the state government in June 2006. However, work on the project couldn't be started, as the state government couldn't acquire land, fearing Naxal violence.
Steel Authority of India Limited, too, failed to develop its Rowghat mines, despite securing clearances for these in 2009. Though work had started on a rail line in the Rowghat area, which accounts for a major chunk of Naxal activities, it was progressing at a snail's pace, owing to threats from the rebels. The mines were scheduled to supply raw material to the steel plant in Bhilai.
NMDC operates from the heart of the Naxal zone; it has mechanised iron ore mines in Dantewada. Often, Naxalites have attacked these facilities, targeting security personnel. In 2006, Naxal had attacked an NMDC facility and killed eight Central Industrial Security Force personnel.
Naxal violence in the state has also put several investment proposals in jeopardy. "For the corporate world, Chhattisgarh means Bastar, and most are avoiding investing in the state because of Naxal violence," said Anil Nachrani, an industrial association representative.