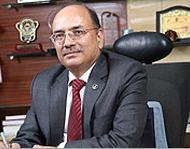 Narendra Kumar Verma was on Wednesday selected to head ONGC Videsh Ltd, India's flagship overseas oil and gas assets acquisition firm.

Verma, 55, is currently Director for Exploration in OVL's parent company, Oil and Natural Gas Corporation.

The Public Enterprises Selection Board, which is the government head-hunter, interviewed seven candidates for the post, which fell vacant after Dinesh K Sarraf was elevated as Chairman and Managing Director of ONGC.

"PESB recommended the following name for the post of Managing Director, ONGC Videsh Limited: N K Verma," it said in a posting after interviews on Wednesday.

OVL has interests in 33 oil and gas assets in 17 countries and contributes to 12 per cent and 7 per cent of India's oil and natural gas production, respectively.

In terms of reserves and production, OVL is the second-largest petroleum company of India, next only to parent ONGC.

Originally, 15 candidates, including ONGC Director (Technology & Field Services) Shashi Shanker and OVL Director (Finance) and acting Managing Director Satpal Garg, had applied for the position.

Shanker did not appear for the interview.

At 53 years, he is the youngest director on the ONGC board and is widely tipped to succeed Sarraf when he superannuates on September 30, 2017.

He has been on the ONGC board since December 2012.

PESB said besides Verma and Garg, it interviewed ONGC executives Vikas Tayal, S K Moitra and A Balachandran as well as Indian Oil Corporation executive director Rajiv Khanna and IAS officer V Srinivas.

Garg has been director finance of OVL since September 2008 and is due to superannuate on August 31, 2016.

Verma who will superannuate in January 2019, will also be eligible for the job of ONGC Chairman and Managing Director upon Sarraf's retirement.

Incidentally, Sarraf also used the OVL route to the top post in ONGC. He was Director (Finance) in ONGC before he went on to head OVL.

Sources said D Rajkumar, Managing Director & CEO, Bharat PetroResources Ltd, was shortlisted for an interview but chose not to attend.

BPRL is the upstream subsidiary of Bharat Petroleum Corp Ltd and has been at the forefront of acquisitions in Mozambique and other countries.

After OVL, BRPL has the largest portfolio of overseas oil and gas assets. It owns interests in eight exploration blocks in Brazil and one each in Indonesia, Australia and East Timor.

It also has a 10 per cent interest in a giant gas field off Mozambique that is estimated to hold up to 70 trillion cubic feet of inplace reserves.
Image: Narendra Kumar Verma; Photograph, courtesy: www.ongcindia.com