Most employment surveys suffer from drawbacks such as limited data coverage, infrequent data collection, and time lag.
Illustration: Uttam Ghosh/Rediff.com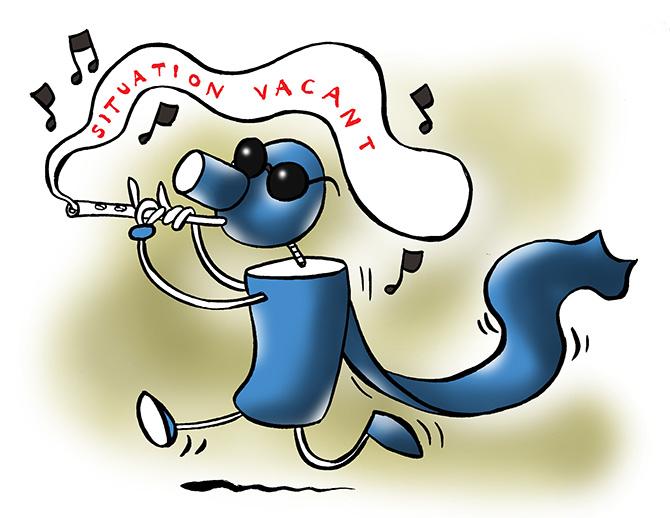 Sectors that saw growth in job creation struggled with weaker growth in salaries, while salaries grew faster in sectors that lost jobs in FY15-17, shows a report titled Employment in the Corporate Sector: FY17, released by CARE Ratings in collaboration with Ace Equity.
Employment generation in real estate went to the negative zone in the last two years, while the average salaries in the sector rose 11 per cent and 14 per cent in FY16 and FY17, respectively.
Similarly, average salaries in the telecom sector rose 5 per cent and 9 per cent in FY16 and FY17, respectively, against deceleration of 3 per cent and 9 per cent in job growth.
In a sample comprising 1,453 companies segregated across sectors, job growth was clocked at 2.25 per cent in FY17; tepid but an improvement from 1.2 per cent in FY16.
Telecom, real estate, alcohol, and mining sectors contributed the gravest job cuts in FY16 and FY17, while information technology (IT), health care, electrical, and retail trading registered a boom, with growth akin to, or faster than, GDP growth.
As the salary figures are derived indirectly from existing employment and salary bill at the end of financial year for a particular company, analysis of salaries would be only broadly indicative, and would not necessarily indicate causality between lower growth and higher salaries, say the makers of the report.
"Owing to bottom line growth uncertainty in face of low top line growth, many top companies have resorted to headcount rationalisation in recent years.
"This resulted in reduction in employed labour and separation packages.
"The statistical phenomenon of higher salary payout divided by a reduced employee count resulted in rise in the average salary paid," Madan Sabnavis, chief economist at CARE Ratings told Business Standard.
In another sample of 715 select companies taken over a period of five years, employment in the corporate sector rose with a compound annual growth rate (CAGR) of 0.5 per cent from FY13 to FY17; much slower than the rising gross domestic product (GDP) growth in that period. This sample showed 1.65 per cent job cuts in FY15.
Jobs added in private corporate sector in manufacturing stood at 320,000 between FY16 and FY17, lower than the 410,000 jobs added between FY15 and FY16, an econometric analysis by economist Radhicka Kapoor shows.
The analysis, presented in a recent working paper for the Indian Council for Research on International Economic Relations (ICRIER), is done using yearly data on gross value added from national accounts statistics.
"The analysis has been done by constructing estimates of the employment elasticity of gross value added for each of the industry groups reported in the National Accounts Statistics.
"The elasticity estimates are computed by regressing (a statistical analysis tool) employment numbers on GVA for the last seven years, which helps us understand how employment generation varies with value added in the economy," said Kapoor.
It analyses existing employment data segregated into the same categories as done by NITI Aayog's task force on employment in July 2017 - household data, census and surveys, administrative sources, and government schemes.
Against 750,000 vacancies posted on the National Career Services portal, 39.2 million people had applied at the end of September 2017, up from 36.2 million at the end of March 2017, the report notes.
There has been a consistent rise in employees registered under the Employees' Provident Fund Organisation (EPFO), and in the contributions made towards EPFO, too.
"Using this data to analyse trends in formality is fraught with difficulties as the scheme is still not universal and has important exclusions even within the organised sector", it says.
But this report comes with a caveat. "Employment data in India is far from adequate if policy responses have to be more effective and timely.
"Most employment surveys suffer from drawbacks such as limited data coverage, infrequent data collection, and time lag," it says.
A July 2017 report by McKinsey Global Institute presses for the need of a discussion on 'gainful employment' and not just employment.
"During 2011-15, agriculture (labour force) shrank by 26 million, while non-farm jobs rose by 33 million, largely driven by rapid economic growth between 2013 and 2015," the report says.
Earlier this year, demonetisation drastically reduced casual workers and ballooned the number of contractual workers in eight major sectors of the economy, data from the April 2017 Quarterly Employment Survey (new series) by the Labour Bureau shows.
The Union government appointed a task force for improving employment data in India in May 2017, under the chairmanship of then NITI Aayog vice-chairman Arvind Panagariya.
According to its recommendations, the government will now do away with the employment and unemployment survey by the National Sample Survey Office (NSSO) - the last such survey was done in 2011-12, which showed a rise in total employment to 474 million from 459 million in 2004-05 - and publish an annual household survey, a quarterly periodic labour force survey in urban areas along with new employment measurement techniques using the GST Network.