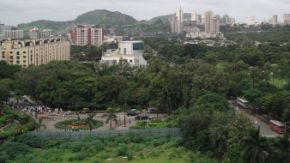 Kanjurmarg is an emerging business district in the heart of Mumbai and, therefore, a focal point for residential demand as well.
Located in the central suburbs, the area enjoys advantageous proximity to Powai and Vikhroli.
Its strategic positioning on the central line provides easy accessibility to both the Harbour and Western lines of the city's local rail network.
Job creation as a residential market driver is a powerful force in a city like Mumbai and Kanjurmarg has had more than a fair share of it.
This area has seen a host of developments from industries shifting their bases there to benefit from lower costs and larger floor-plates.
Corporate campuses such as OneWorld, Akruti Corporate Park and Lodha iThink Techno are some of the most notable business complexes providing impetus to this growing business district.
With several leading developers offering world-class commercial spaces in this area, there is very decent demand for homes emanating from the mid-management cadre of the occupying firms.
The highest demand for homes in Mumbai continues to be in and around the primary and secondary business districts, with connectivity being the primary mantra for home buyers.
In this respect, Kanjurmarg certainly wins. The Jogeshwari-Vikhroli Link Road (JVLR), which commences from the eastern part of Kanjurmarg, connects the area to the Eastern and Western Express Highways.
Also, LBS Marg provides easy accessibility to other parts of Mumbai.
Apart from connectivity, Kanjurmarg is more or less self-sufficient in terms of social infrastructure and facilities such as quality schools, colleges and hospitals.
With a number of shopping/entertainment hubs such as Huma Mall, Magnet Mall and Neptune Mall in the vicinity, Kanjurmarg is seeing rapid-fire residential developments - with corresponding demand.
Due to the upward shift of property values in Powai, Vikhroli and Thane, Kanjurmarg is seeing spillover demand from these areas as property prices there are between 10-20 per cent lower there.
The affordability quotient has been the primary driver for residential housing projects there, with a number of smaller developers active.
Property prices range between Rs 14,000-15,000 per sq ft, and the locality offers a fairly wide spectrum of residential projects catering mainly to the demand from office-goers.
Considering the overall real estate trends in Mumbai and factoring in affordability, infrastructure and connectivity, Kanjurmarg offers good returns on investment. This area is likely to see rapid growth in real estate development in the future.