After months of negotiations, an entity owned by Pune-based property developer Panchshil Realty and US-based private equity (PE) company Blackstone has bought a majority stake in Express Towers, the iconic building owned by Viveck Goenka of The Indian Express group, PE company ICICI Venture and The Indian Express's former editor-in-chief Shekhar Gupta, for around Rs 870 crore (Rs 8.7 billion). The building is in Nariman Point here (Mumbai).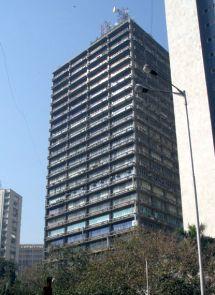 While ICICI Venture has completely exited the building, Goenka and Gupta have retained minority stakes, said two executives involved in the deal.
While ICICI Venture held 50 per cent stake in the building, the rest was held by Goenka and Gupta. According to the executives, the majority of the proceeds has gone to ICICI Venture.
Though ICICI Venture was reportedly looking at Rs 500 crore to Rs 550 crore (Rs 5 billion to Rs 5.5 billion) from the deal, how much the PE fund got could not be ascertained.
Atul Chordia, chairman of Panchshil Realty, said: "Panchshil and Blackstone have bought a majority stake in the building." Mails sent to ICICI Venture and Express group did not elicit any response.
Chordia said the company was looking to lease unleased space in the building. The building has 400,000 square feet of total leasable area and is believed to have 10-15 per cent vacancy.
Blackstone has 49 per cent stake in the Panchshil entity and the Pune company owns 51 per cent, it was learnt.
ICICI Venture, promoted by ICICI Bank, acquired the 49 per cent stake in the the 25-storey building in 2008, for Rs 358 crore (Rs 3.58 billion) and was looking to exit the investment for a while.
Last year, it got bids from various funds and developers and, finally, Panchshil-Blackstone combine signed the deal to buy the building about two months ago, the executives said.
After buying the stake, the private equity firm also renovated the lobby area and installed high-speed lifts in the building.
ICICI Venture was earlier planning to list yield-generating assets such as Express Towers, but the tough market conditions played spoilsport.
Express Towers, which was built in 1972, was a brainchild of late Ram Nath Goenka, the founder of Express Group.
Designed by legendary architect Joesph Allen Stein, it was built with a vision to be the most modern building in the country.
The building overlooking Arabian Sea has high profile tenants such as McKinsey, Blackstone, Warburg Pincus, Temasek and General Atlantic Partners.
Please click here for the Complete Coverage of Budget 2014 -15