Infra experts say govt will first need to figure out how to exploit real estate along the proposed routes.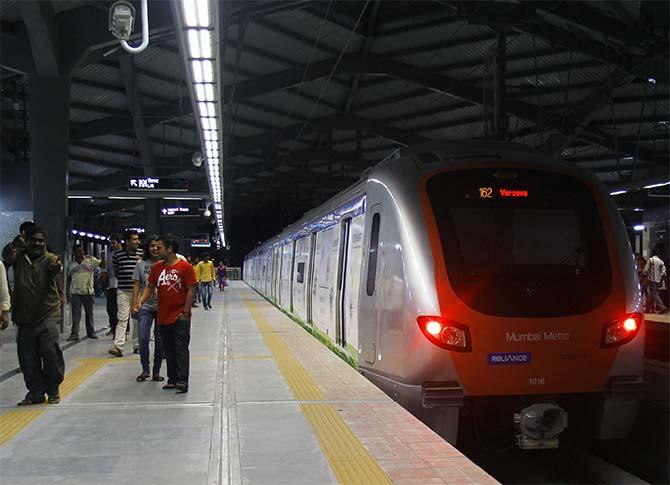 Not with standing the present dispute with Reliance Infra arm Mumbai Metro One Pvt Ltd (MMOPL) with regard to the fare of the 11.4 km Versova-Andheri-Ghatkopar corridor, the state-run Mumbai Metropolitan Region Development Authority (MMRDA) has sanctioned 118 km of Metro network, which envisages a total investment of Rs 35,400 crore or Rs 345 billion.
However, infra experts insist that the government will have to address issues concerning fares, right of way and commercial exploitation of real estate along the proposed routes before MMRDA kickstarts implementation of the proposed Metro corridors to ensure viability.
The development of 118 km Metro network includes 40 km Dahisar-Charkop-Bandra-Mankhurd Metro II corridor (Rs 12,000 crore), 40 km Wadala-Ghatkopar-Thane-Kasarvadavali Metro IV corridor via Wadala GPO and RA Kidwai Marg (Rs 12,000 crore), 27 km Dahisar-E-Andheri-E-Bandra-E Metro V corridor (Rs 8,100 crore) and 11 km Jogeshwari-Vikhroli Link Road Metro XI corridor (Rs 3,300 crore).
A government official told Business Standard, "The government and MMRDA hope for an early resolution of issues pertaining to the 11.4 km Metro corridor. Metro is a viable option in Mumbai and therefore, 118 km of the network has been cleared."
"These corridors will be now be developed on cash contract basis wherein the proposed Metro corridors will be totally funded by MMRDA."
However, PwC, partner & leader (infrastructure) Manish Agarwal said, "Metro projects will not be feasible on fare box revenues."
"The model of up to 40 per cent capital grant will also not be sufficient. Institutional integration will be a key success factor, enabling land use and Metro planning integration, transport integration and operational and technology integration."
Pricing of urban transport is a complex issue. The interplay of time saved, convenience and cost is different from different demographic classes.
The Urban Transport Pricing Policy needs to be thought of in an integrated manner and the Metro pricing needs to then be a part of it," he noted.
Further, MMRDA's former commissioner Rahul Asthana suggested that the fare box revenues should be such that they cover the cost of servicing the loan over its tenure.
If the state entities realise that return on their investment will be negligible and accept this, then fares can be kept at reasonable levels.
Image: Mumbai Metro.
Photograph: Hitesh Harisinghani/Rediff.com